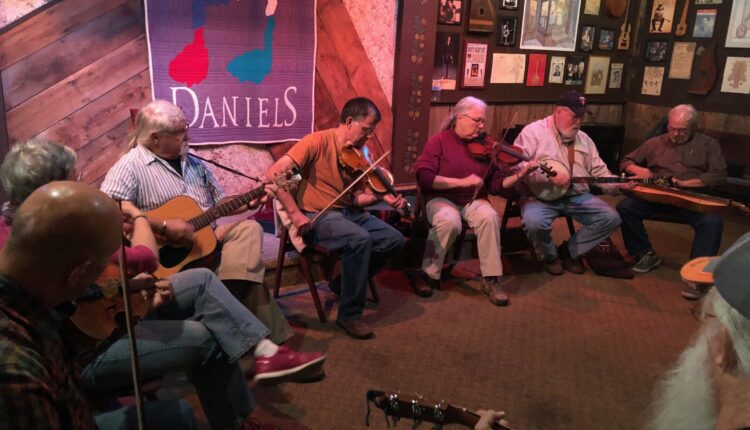 Lehigh Valley art venues continue to thrive
The arts designed to bring a community together have been destroyed by the pandemic.
It was the mission of many art venues in the Lehigh Valley not only to keep their businesses alive, but to continue to share art with the community in a meaningful and engaging way, virtually and in limited personal formats.
IceHouse tonight
IceHouse tonight has closed its doors since the pandemic began in March 2020.
Doug Roysdon, founder of the venue and program, said if the pandemic hadn't happened, they would have had 115 shows last year.
While circumstances were tough for the entertainment industry, especially artist creativity, IceHouse Tonight was able to use that time to bolster their program to become more believable and affordable, Roysdon said.
He said one of the ways they have done this is to create music, poetry and production committees so that artists can be more involved in the planning.
In terms of performing, IceHouse runs a monthly virtual series called "Live from IceHouse Tonight" in which they record live and broadcast on them Facebook Side and Youtube channel. They offer dance groups, local bands, local theater groups, comedians and poets, said Roysdon.
While Roysdon said he wish they could hold these performances in person, which he hopefully can do by September, a virtual format has an advantage: documenting the arts in the local community.
Roysdon said virtually or not, IceHouse's mission remains to share the local arts with the wider community.
"A live show starts two hours before the lights come on, because when you have a really great live show, you have someone out to eat," said Roysdon. "You go to the show and you meet people you know and at the end of the show you go out for a beer – that's the show, that's the public. Now you take that and compare it to the thing called a pandemic and it's just the opposite of lifestyle and that's pretty disappointing. "
Godfrey Daniel's coffee house
Executive director Ramona LaBarre said it was not convenient or safe to have someone Godfrey Daniel's coffee houseThis is a small venue with a maximum capacity of 90 people.
They have also been closed since last March.
The venue moved online, broadcasting weekly live streaming appearances from one hour to theirs Facebook and YouTube channels. You have mainly shown solo artists, but also duo and trio artists.
LaBarre said some of the artists maintain social distancing and wear masks, even in the studios they are recording in, to demonstrate support for COVID-19 protocols.
While most of their acts are crowd-pleasers, LaBarre said the virtual format allowed them to like performers John Hannam from Alberta, Canada who otherwise might not be able to travel to Godfrey's to perform in person. It has also enabled them to reach viewers who otherwise couldn't attend the club in person, she said
LaBarre said the community increased its advocacy for them and the arts during this time. Seeing this, she missed the camaraderie and intimacy Godfrey offers as a community hub, she said.
"[People] I knew they'd be hearing an amazing artist when they came to Godfrey, "said LaBarre. "You would also meet your neighbors, business partners and friends. It was definitely a place that people would come and they knew they would see people from the community that they know and care about. We miss these gatherings. "
However, LaBarre said that they have successfully dealt with their virtual programming and she sees it will resume once they are able to work normally.
Banana factory
The Banana factory has hosted both virtual and face-to-face events.
At the beginning of the pandemic, the factory relied on it Instagram to keep their audience engaged with projects like #quarantineartclub where they encouraged their followers to share things they did at home. They also uploaded arts and crafts tutorials on theirs Youtube channel.
Nicole Gencarelli, visual arts specialist at the banana factory, said as restrictions eased, the factory operated in a hybrid format last summer, with virtual classes and some outdoor personal classes. They hope to continue the format this summer, she said.
Banana factory has a virtual one Celtic Knot Illustration Workshop on March 13, where members can pick up art sets from the factory prior to the virtual class.
The factory also reopened its events on the first Friday, where members who register in advance are shown through certain galleries in detached groups with limited capacity.
Members can also participate in virtual artist talks and sign up for small, artist-led gallery tours.
Gencarelli said that she believes this time will inspire the community to have more visual arts in their lives and to appreciate the arts and personal interactions more.
"We are very much looking forward to the day when things can open up again and we are very excited to have our audience engaged throughout all of this," said Gencarelli. "What kept us going is knowing that our community is still there and we can still give them access to the arts."
Gallery on the fourth
Lisa Kovacs, the founding director of Gallery on the fourthsaid she did everything she could to keep sharing art with the community even though members couldn't get into the room.
"I turned on my lights around the clock and changed the work on the front windows for no other reason than giving anyone who was out and about something nice to look at, hopefully to lighten the mood," said Kovacs.
Some of these works were by the artist Sean Carney, whose work has been presented both as a virtual and as a window display with the title "All things big and small."
Though the artwork stayed on the walls, Kovacs said she added a purely virtual component to the exhibition in March and advertised online Instagram, LinkedIn and Facebook – where she also held artist talks and virtual exhibition tours.
Her increased virtual presence enabled her to reach people at home and abroad. She even let a few people buy works that had never come to the gallery, Kovacs said.
For art consumers, Kovacs made accommodations by offering credit card payment, money order, or Venmo, as well as roadside pickups and deliveries.
As soon as she was able to reopen her gallery, Kovacs offered sessions with limited capacity only for appointments in the gallery.
Kovacs said she had to postpone two of her exhibitions last year, which were postponed as the first two exhibitions of 2021. Since Kovacs was able to reopen their space in June, Kovacs has presented three complete exhibitions.
She said these exhibitions did well in attendance and sales, despite being unable to host the usual ancillary events such as opening and closing receptions, artist talks, guest speakers, music nights, poetry nights, and film screenings.
Kovacs said opening a gallery was already a risky move and having to close for nine months because of the pandemic was stressful. Despite the challenge, she said that Gallery On Fourth not only survived, but flourished.
Kovacs said she and the members of the community are hungry to see art in person again. She said she couldn't wait for in-person events to be fully safe again.
"I'm a real person," said Kovacs. "I like the personal contact of people with voices, with faces, the ability to hug people when they are excited, when an artist is excited because something is being sold, that's what I miss the most. I miss having to eliminate all programs and events that promote the artist and his work and connect him with an audience. "