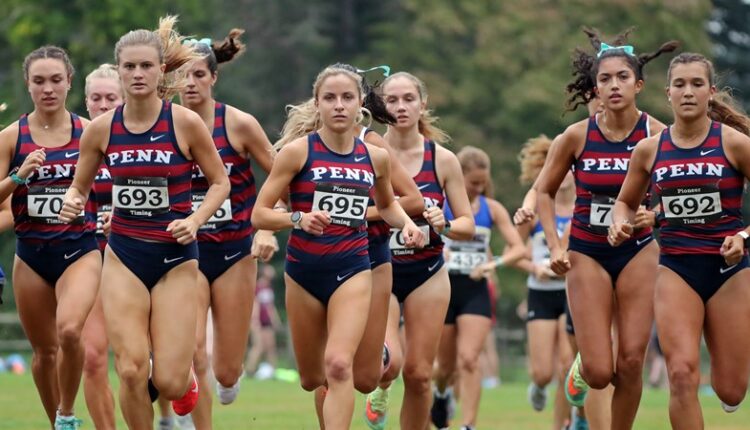 Gardizy Leads Women's XC To Second Place At Main Line Invitational
HAVERFORD, Pennsylvania – The University of Pennsylvania cross-country teams took two runners-up at the Main Line Invitational on Friday night, led by Senior Captains Ariana Gardizy and Noah Carey.
In the women's category, the Quakers take second place as a team in the field of seven with 62 points. Gardizy drove the Penn field in eighth place on the three-mile course with a time of 17: 12.9. Not far behind was Olivia Morganti in 12th place with a time of 17: 26.7. Freshman Bronwyn Patterson (17: 35.6) crossed the finish line in 14th and brought a number of Quakers up to 20th place. Patterson followed Fabianna Szorenyi (17: 36.6), Laura Baeyens (17: 38.6), Lizzy Bader (17: 38.9), Phoebe White (17: 43.3), Zoe Shetty (17: 47.3 ) and Niamh Hayes (17: 47.8) in that order.
The Penn men accumulated 47 points and finished second as a team when Carey beat a close finish between four Villanova runners. The captain took third place with a time of 19: 17.7 on the four-mile route. Junior Ray Sellaro cracked the top 10 with a seventh place in a time of 19: 32.2, while Luke Johnson (19: 35.7) and Michael Keehan (19: 36.0) finished 11th and 12th. The Quaker scorers came in 19th with James Lee, 22nd with Will Shaughnessy and 25th with Justin Cornetta.
The teams split into two different destinations for their next events on October 1st and send part of the team to the Piane Notre Dame Invitational in South Bend, Indiana, while the other part goes to the Paul Short Invitational at Lehigh University.
RESULTS FROM PENN
Women (2. / 62 points)
8. Ariana Gardizy – 17:12, 9
12. Olivia Morganti – 17:26.7
14.Bronwyn Patterson – 17:35.6
15. Fabianna Szorenyi – 17:36.6
16. Laura Baeyens – 17:38.6
17. Lizzy Bader – 17:38, 9
18. Phoebe White – 17: 43.3
——————————————
19. Zoe Shetty – 17:47, 3
20. Niamh Hayes – 17: 47.8
33. Miranda Schriver – 18: 26.0
34. Chloe Hassman – 18: 36.1
37. Maggie Maier – 19:06, 6
42. Ellen Byrnes – 19: 36.0
47. Nikhila Obbineni – 20: 00.7
Men (2nd / 47 points)
3. Noah Carey – 19:17.7
7. Ray Sellaro – 19: 32.2
11. Luke Johnson – 7:35 pm
12. Michael Keehan – 19: 36.0
19. James Lee – 20:01.7
22. Will Shaughnessy – 20: 07.5
25. Justin Cornetta – 20: 13.0
——————————————
31. Vidhur Polam – 8:24 pm
32 Edwin Klanke – 20: 26.5
41.William Hase – 20: 40.6
43. Tim Dolan- 20:42.5
48. Oliver Stewart – 21:11.7
49. Hill of Troy – 21:12
64. Anton Idhammar- 21:55.4
82 Charlie King – 22: 52.0
#Tracking
#FightOnPenn