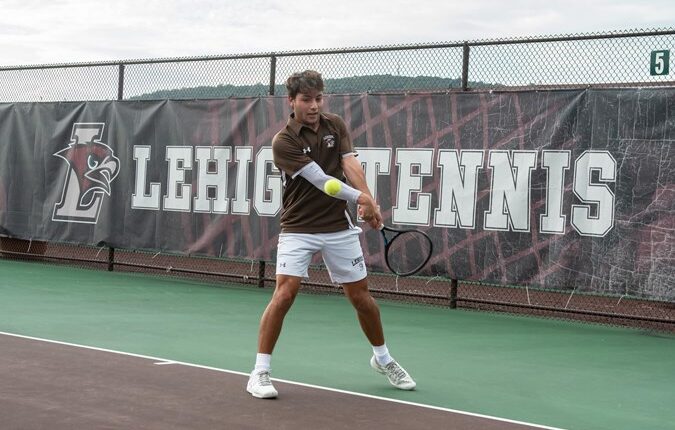 Fishkin, Blekhman Unbeaten In Singles As Lehigh Hosts Fall Invitational
Story links
BETHLEHEM, Pennsylvania – For two busy days of tennis action, the Lehigh men's tennis team hosted the Lehigh Invitational at the Ulrich Varsity Courts, which ended on Sunday. The Mountain Hawks competed against Fairfield, Howard and Monmouth over the weekend in a hidden dual format with four doubles and eight singles against each visiting team.
Overall, the Mountain Hawks went 6-5 in doubles and 14-10 in singles over the weekend. Lehigh had the greatest success against Howard, who won all four doubles games on Saturday and all eight singles games on Sunday.
Freshman Marc Blekhman and senior Gary Fishkin both went through 3-0 in the singles over the weekend. Lehigh started the weekend with a 3-5 win against Monmouth in the singles, with Blekhman, Fiskhin and Junior Jeremy Learner taking the Lehigh wins. After beating Howard in doubles, the Mountain Hawks went 3-5 against Fairfield in singles, with wins from Blekhman, Junior Matt Kleiman and Fishkin.
Sunday started with Lehigh losing four doubles to Fairfield before beating Howard in singles. In their last competition of the weekend, the Mountain Hawks won 2-of-3 doubles against Monmouth, with Blekhman working with senior Zack Elliott and Kleiman and Learner also winning.
The full Lehigh results can be found below.
The Mountain Hawks will continue their fall slate next weekend as they head to the Saint Joseph's Invitational in Merion Station, Pennsylvania, September 24-26.
Lehigh vs. Monmouth Singles (Saturday)
1. Lucca Silva (MU) def. Zack Elliott (Lehigh) 6-4, 7-5
2. Marc Blekhman (Lehigh) def. Gabe Busato (MU) 3-6, 6-3, 11-9
3. Trent Massam (MU) def. Matt Kleiman (Lehigh) 6-2, 3-6, 10-8
4. Jeremy Learner (Lehigh) def. Christof Zeiler (MU) 6-4, 6-0
5. Diego Laporta (MU) def. Jordan Paul (Lehigh) 6-4, 6-2
6. Arthur Dussaubat (MU) def. Michael Bukhalo (Lehigh) 6-2, 6-3
7. Gary Fishkin (Lehigh) defended. Austin Klapman (MU) 6-4, 1-6, 8-10
8. Sasha Pachnev (MU) def. Andrew Nakhjavan (Lehigh) 6-3, 6-0
Lehigh vs. Howard Doubles (Saturday)
1. Elliott / Blekhman (Lehigh) def. Cadeau / Mayers (Howard) 8-5
2. Learner / Kleiman (Lehigh) def. Dawson / Dunac (Howard) 8-2
3. Paul / Bukhalo (Lehigh) def. Knowles / Martin (Howard) 8-3
4. Defeated Nakhjavan / Fishkin (Lehigh). Williams / Westbrook (Howard) 8-6
Lehigh vs. Fairfield Singles (Saturday)
1. Charlie Morkel (Fairfield) def. Zack Elliott (Lehigh) 6-2, 6-2
2. Marc Blekhman (Lehigh) def. Jonathan Olive-Blanco (Fairfield) 1-6, 7-6 (5), 10-4
3. Matt Kleiman (Lehigh) def. Keean Shah (Fairfield) 6-2, 3-6, 10-6
4. Sam Hodges (Fairfield) defeated. Jeremy-Lerner (Lehigh) 6-2, 4-6, 10-4
5. Griffin Schlesinger (Fairfield) def. Jordan Paul (Lehigh) 6-3, 2-6, 10-7
6. Defeated Gary Fishkin (Lehigh). Stefan Mitrovic (Fairfield) 6-4, 6-4
7. Andrew Immink (Fairfield) def. Andrew Nakhjavan (Lehigh) 4-6, 6-1, 11-9
8. Will O'Brien (Fairfield) defeated. Steven Nazaroff (Lehigh) 6-4, 5-7, 10-7
Lehigh vs. Fairfield Doubles (Sunday.)
1. Morkel / Hedges (Fairfield) def. Elliott / Blekhman (Lehigh) 8-6
2. Gore / O'Brien (Fairfield) defeated. Kleiman / Lerner (Lehigh) 8-3
3. Olive-Blanco / Shah (Fairfield) def. Paul / Bukhalo (Lehigh) 8-5
4. Mitrovic / Schlesinger (Fairfield) def. Fishkin / Nazaroff (Lehigh) 8-6
Lehigh vs. Howard Singles (Sunday)
1. Zack Elliott (Lehigh) defends. Justin Cadeau (HU) 6-3, 7-5
2. Marc Blekhman (Lehigh) def. Romnani Mayers (HU) 6-4, 4-2, standard
3. Matt Kleiman (Lehigh) def. Marcel Dawson (HU) 6-7 (5), 6-2, 10-4
4. Jeremy Learner (Lehigh) def. Daniel Dunac (HU) 6-3, 7-5
5. Jordan Paul (Lehigh) def. Gabe Knowles (HU) 6-2, 6-0
6. Michael Bukhalo (Lehigh) defended. Kyle Martin (HU) 6-4, 6-1
7. Gary Fishkin (Lehigh) defended. Phoenix Williamas (HU) 6-2, 6-0
8. Steven Nazaroff (Lehigh) defended. Pierce Westbrook (HU) 6-1, 6-2
Lehigh vs. Monmouth Doubles (Sunday)
1. Elliott / Blekhman (Lehigh) def. Massam / Busato (MU) 8-7 (4)
2. Learner / Kleiman (Lehigh) def. Dussaubat / Laporta (MU) 8-3
3. Klapman / Pachnev (MU) def. Bukhalo / Paul (Lehigh) 8-3