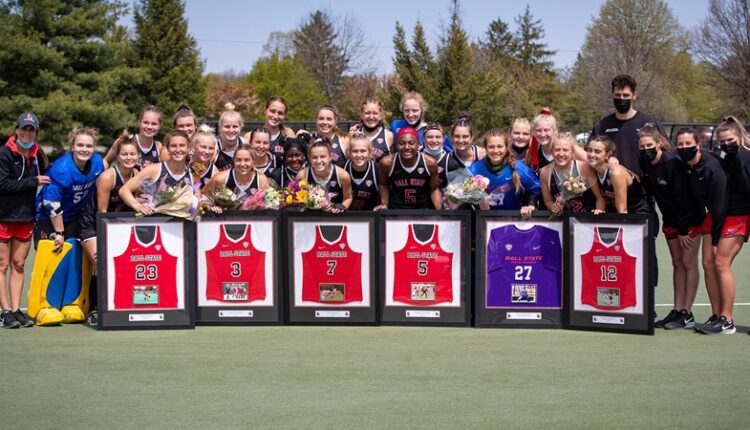 Field hockey celebrates six seniors Friday at home against Miami
Story links
Photo gallery

Photo gallery
Next game:
Miami University (OH)
04/24/2021 | 1 PM
MUNCIE, Ind. – Before today's competition against Miami # 17, the Cardinals paid tribute to their six seniors, goalkeeper Grace Chavez (Norfolk, Va./Matthew Fontaine), forward Abby Ferenczy (Williamsville, NY / South), forward Sierra Jefferson (Bethlehem , Penn./Arthur L Johnson), midfielder Jenna McKune (Louisville, Ky./Assumption), defender Rachel Pereira (Howick, South Africa, St. Anne's Diocean College) and defender Audrey Tabor (Louisville, Ky./Sacred) Heart Academy).
Ball State (6-9, 4-7 MAC) unfortunately fell to the RedHawks (12-1, 9-0 MAC) with a result of 5-0 on Friday afternoon at the Briner Sports Complex.
Miami scored two goals in the first half and added three more after the break.
The Cardinals took four penalties from the RedHawks, had two chances to score in the third and fourth periods, but struggled to bond to the cage with both Pereira shots.
As one of the top goalkeepers at the Mid-American Conference, sophomore Wietske Overdijkink recorded seven saves, while her teammate Tabor scored two saves for the BSU.
The Ball State field hockey team will have another opportunity to demonstrate their steadily growing improvement over the year when they host Saturday's Cardinals Finals at the Briner Sports Complex in Miami on Saturday.
As a reminder, due to the ongoing COVID-19 pandemic and the resulting health counseling department, there will be no general public participation in Ball State field hockey home games this spring.