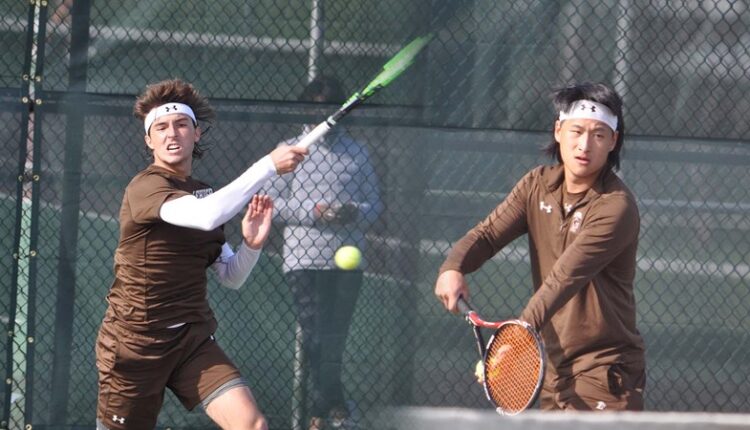 Elliott and Wang earn All-League honors
Story links
BETHLEHEM, Pa. – A dynamic duo consisting of Zack Elliott and Harry Wang were named First and Second Team All-Patriot League on Friday, as announced by the league office. The duo led the Mountain Hawks' success that year by receiving number 3 for the Patriot League Championships. Both Elliott and Wang were named Patriot League Player of the Week for two consecutive weeks in mid-March.
"Zack and Harry were instrumental in the success of our team in the individual slots No. 1 and 2," said head coach Wouter Hendrix. "They played at a very high level and the leadership they brought as captains was key. What I love most about them is their relentless intensity and competitiveness, day in and day out. I'm over the moon to see them this deserves recognition. "
The second Elliott won the First Team All-League after leading the Mountain Hawks to # 1 during the year. Elliott set a 4-4 record at the top in singles and a 5-3 overall record in doubles, which was at the top. During his three year career, Elliott has a combined record of 21-15 in singles and a record of 23-15 in doubles. In his first season, Elliott was called up to the Second Team All-League.
Wang just won the second team All-League award for the third time in his career. The senior also received the award after his first and second seasons. The senior, who took second place in singles all year round, scored a 5-3 mark in singles and doubles. Wang and Elliott came out on top in doubles, going 4-2 together. During his four years as Brown and White's representative, Wang set a 26-26 record in singles and a 30-24 mark in doubles.
The Mountain Hawks reached the semifinals this year after beating Boston University in the quarterfinals. Lehigh had his season end in the semifinals against Army West Point.
2021 Men's Tennis All-Patriot League and Major Awards
Player of the year – Andrew Ton, Navy, Sr.
Beginner of the year – Alexander Panyan, Marine, Ms.
Double team of the year – Andrew Ton / Alexander Panyan, Marine
Coach of the year – Chris Garner, Marine
First team All-Patriot League
Diego Huttepain, Army West Point, Jr.
David Bogatin, Boston University, Sr.
Marwan Abaza, Bucknell, Sr.
Zack Elliott, Lehigh, Jr.
Andrew Ton, Navy, Sr.
Derrick Thompson, Navy, Jr.
Second team All-Patriot League
Sam Eden, Army West Point, Sun.
Thomas Lake, Army West Point, Sun.
Owen Lu, Boston University, Sr.
Francis Scott Bickel, Colgate, Sr.
Harry Wang, Lehigh, Sr.
Finn Garner, Navy, Sun.