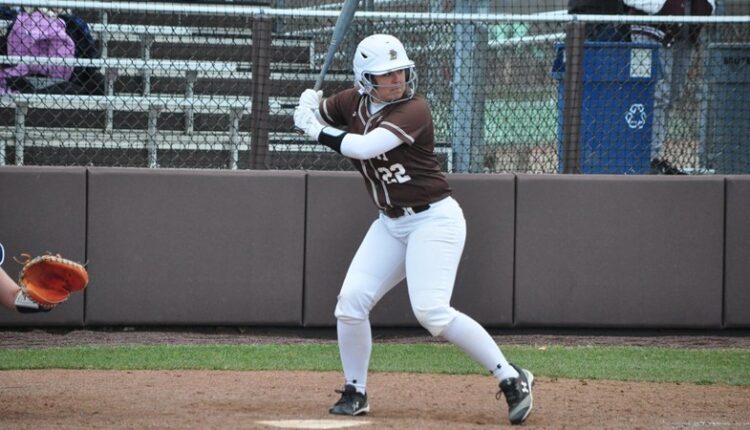 Mountain Hawks Open Season With Doubleheader Sweep At Sacred Heart
Next game:
at Seton Hall
07.03.2021 | 12.00
FAIRFIELD, Conn. – The Lehigh softball team kicked off their 2021 campaign with a double-header sweep on Sacred Heart Sunday in Pioneer Park. Junior Jaelynn Chesson picked up where she left off in her first two seasons, hitting two home runs and running five in Lehigh's 10-1 win with six innings and one win. The Freshman class delivered a great performance in the second game when the Mountain Hawks won 8-1.
Four Lehigh pitchers enabled two runs with eight hits over the double-header sweep, while the Mountain Hawks started 2-0 for the second year in a row.
Sacred Heart (0-2) took a 1-0 lead after two innings in the first game of Emily Carroll's solo home run before Lehigh scored 10 unanswered runs.
Freshman Brooke Cannon started a third inning with four runs with a brace to the left in the center and then tied with a singles from junior Carley Barjaktarovich. Three batters later, Chesson shot a triple home run into the center right, giving the Mountain Hawks a 4-0 lead.
Barjaktarovich opened the fifth inning with a colorful single and again it was Chesson who brought her home with a two-part home run to extend Lehigh's lead to 6-1. Chesson had Lehigh's last multi-homer game, scoring twice against Ohio State on March 9 last year. She now has 14 career home runs.
Lehigh opened the game with a sixth inning in four runs. The Mountain Hawks took the bases on three walks before sophomore Josie Charles' RBI single played newcomer Bella Egizio. Chesson then took three more runs home when they encountered a Pioneer Center Fielder's mistake with two outs.
Junior Gabriella Nori started in a circle, allowing a three-hit run over five innings with one walk and six strikeouts. Senior Lainey Stephenson scored three hits in a goalless sixth inning to end the win.
A two-failure rally kicked off the Mountain Hawks in the second inning of game two when Lehigh loaded the bases and Cannon cleared them with a double left field.
Lehigh prevailed against two more in the fourth game when senior Allyson Dibsie took a double lead and Egizio hit a triple to the right. The Mountain Hawks took a 5-1 lead when Barjaktarovich and Egizio executed a brace with runners on the corners.
Egizio's second triple of the game overshadowed two runs in the fifth and she then hit on a Barjaktarovich single.
Newbies Katelyn Young and Ansley Dambach tied for a four-goal in a circle, with Young allowing a run in four innings with five strikeouts and Dambach followed with two strikeouts and two walks in three goalless frames.
Egizio was 3 against 4 with three runs and three RBIs. Barjaktarovich had two hits in each game.
The Mountain Hawks will be back next Sunday to face Seton Hall in a double header. The first game starts at noon in South Orange, NJ
Like Lehigh Softball on Facebook and follow you on Twitter and Instagram for exclusive updates throughout the season.