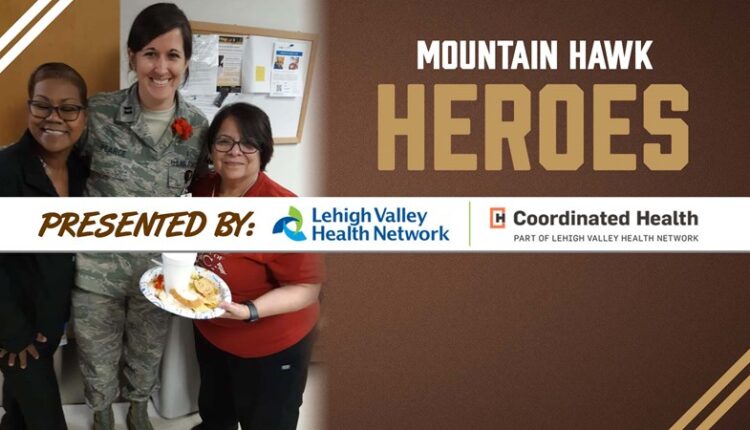 Mountain Hawk Heroes: Women's Basketball Alum Kaela Pearce
Story Links
Every Wednesday, Lehigh Athletics, Lehigh Valley Health Network and Coordinated Health is proud to recognize a Mountain Hawk Hero – someone associated with Lehigh Athletics who is making a difference in the medical field. We wrap up the series today with women's basketball alum Kaela Pearce '08.
Previous Mountain Hawk Heroes

December 16: Tara Santoroski Hood (Track and Field Alum)
December 9: Mercedes Grubb (Field Hockey Alum)
December 2: Halie Carter (Track and Field Alum)
November 25: Sarah Cassidy (Track and Field Alum)
November 18: Shannon Alejandro (Track and Field/Cross Country Alum)
November 11: Simon Voorhees (Track and Field/Cross Country Alum)
November 4: Michael Metzger (Men's Lacrosse Alum)
October 28: Jen (Lance) Sikorski (Rowing Alum)
October 21: Shannon Wright (Track and Field/Cross Country Alum)
October 14: Darren Saks (Men's Soccer Alum)
October 7: Jenny Warner Southard (Track and Field Alum)
September 30: Taylor Wise (Swimming and Diving Alum)
September 23: Matt Christman (Track and Field Alum)
September 16: Steph Fratoni (Field Hockey Alum)
September 9: Mike Price (Swimming and Diving Alum)
September 2: Yasmin Deliz (Track and Field Alum)
August 26: Evan Guerrero (Men's Lacrosse Alum)
August 19: Ross Biggs (Baseball Alum)
August 12: Cynthia Izuno Macri (Soccer Alum)
August 5: Susan Westman (Rowing Student-Athlete)
July 29: Megan Hetzel (Track and Field/Cross Country Alum)
July 22: Lexi Martins (Women's Basketball Alum)
July 15: Nii Daako-Darko (Track and Field/Cross Country Alum)
July 8: Ali Linsk Butash (Softball Alum)
July 1: Kimberly Scotto-Wetzel & Jonathan Wetzel (Track and Field/Cross Country Alums)
June 24: Robert Bonow (Men's Basketball Alum)
June 17: Morgan Decker (Softball Alum)
June 10: Jim Guzzo (Former Quarterback)
June 3: Amina Affini (Women's Basketball Alum) 
May 27: Natalie Krane (Women's Soccer Alum)
May 20: Tricia Klein (Women's Golf Assistant Coach)
 

By: Justin Lafleur, Lehigh Sports Communications
 
Kaela Pearce looks up to her older brother, who is in the Air Force.
 
"This is a common quote, but he's always said when you have a gift, you also have a responsibility," said Kaela.
 
"I have always felt a responsibility to give back."
 
Kaela followed in her brother's footsteps, but as a military doctor. Giving back has been a theme throughout Pearce's life.
 
"My mom is a teacher and my dad was in sales," she said. "They're constantly giving back to other people – to other cousins, family members, neighbors. I learned that lesson from my parents at a very, very young age. We're supposed to help other people, give back and serve our community."
 
Pearce is currently an obstetrician and gynecologist, practicing as an attending physician at the Brooke Army Medical Center in San Antonio.
 
"I'm active duty Air Force," she said. "This is a joint base, so it's mostly Air Force and Army. I've been here for two and a half years after finishing residency in 2018 at Walter Reed National Military Medical Center up in Bethesda, Maryland.
 
"We see and treat all the female active duty folks and then dependents, whether it's spouses or sometimes we have active duty's kids or even parents," said Pearce. "Every now and then, we'll get a VA patient that comes over for obstetric care or surgery.
 
Pearce's interest in medicine blossomed during her time at Lehigh.
 
"I would fully admit playing Division I basketball was all that was on my mind," she said. "My sophomore year, I had really bad shin splints and had to stay out for a while. At that point, I realized basketball wasn't going to be the rest of my life."
 
Luckily for Pearce, she was at a place in Lehigh, which focuses on the all-around student-athlete.
 
"Lehigh definitely pushes student-athletes to think about what's next after sports and after college," she said. "I had to stop and reflect, and realized I really liked the biological sciences. I was actually a math major. Interestingly, there's a lot about problem solving and thinking through things I did with my math degree that I use every day."
 
Pearce and the women's basketball team did volunteer work in a hospital over Christmas, and she just felt comfortable.
 
"So I started to pursue the medical field around sophomore/junior year, started taking classes, studying for the MCAT and looking at schools," she said.
 
After two gap years featuring research and some classes, Pearce explored a military scholarship.
 
"I talked to a recruiter about the option," she said. "I was lucky to have people who were thinking ahead for me, realizing that medical school debt is a real thing, so the scholarship program was appealing for that reason. And then, to be able to do it in the military and serve people, made me move forward."
 
Pearce began medical school at Thomas Jefferson in Philadelphia in 2010.
 
"Former Lehigh softball player Ali Linsk helped me find the right school," said Pearce. "She was at Jefferson, so I was lucky enough to get in there and follow in her footsteps. I was at Jefferson for four years, graduating in 2014 and starting residency at Walter Reed the summer of 2014. OB-GYN is a four-year residency program."
 
It took some time for Pearce to figure out her exact path within medicine, but she wound up in OB-GYN because of aspects like working as a team, relationships and camaraderie.
 
"As an athlete, I always wanted to do something that required some physical coordination," she said. "The first couple years, I started looking at different surgical subspecialties. I really wanted to do something in surgery and thought the ability to do things with your hands and help people was super cool. I was set to do a lot of surgical rotations my fourth year."
 
The fourth year of medical school is an important time to focus on long-term plans, and that's when Pearce's exact plans came into focus.
 
"I stopped and reflected on how I really missed the camaraderie of the OB-GYN group I had rotated with," said Pearce. "I liked the idea of doing surgery, but also getting that personal experience of long-term care. You get to see people through the whole pregnancy, get to see people from when they're teenagers to when they go through menopause. Just having those lasting relationships was appealing."
 
Following med school and residency, Pearce owed three years of service to the Air Force. She was assigned to Brooke Army Medical Center in 2018.

 
Today, Pearce's days vary and can include everything from routine visits to performing surgery.
 
"About half my population is pregnant patients, seeing them through early pregnancy and then throughout their pregnancy," she said. "I also spend around seven days a month as the attending physician up on labor and delivery. About half my practice is gynecology, so I see women in clinic for preventative care and workup for surgical management if needed. We also then have three or four surgery days a month."
 
No matter what a given day looks like, the same thing motivates Pearce – the opportunity to educate, empower and take care of women.
 
"It's rewarding to have patients come to me with a problem and not only be able to help them fix that problem, but also help them understand it," she said. "A lot of things in our field are not talked about. Women just don't really know about their own bodies. It's astounding. So it's gratifying to educate and empower them to know about their bodies, know about their lives, and then be able to use that information to teach their sisters, moms, daughters and friends."
 
As a student-athlete, Pearce was passionate about her academics and about educating herself in all aspects of her life.
 
"She was also someone who cared deeply about her teammates," said Lehigh head coach Sue Troyan. "I love the fact that she's found a profession in the medical field that combines her care for people with her ability to educate and empower women on how to best care for themselves."
 
Along with treating and empowering patients, another rewarding part of Pearce's job is supervising, mentoring and guiding junior and senior residents.
 
"That includes the intangible things residents start to learn when they realize there's life outside the hospital – the importance of taking care of themselves, their finances and their families," she said.
 
Pearce knows there's life outside of medicine, much like she learned while at Lehigh that there's life outside of basketball.
 
"Lehigh focuses on being a well-rounded person," she said. "Your job doesn't define you. Your sport doesn't define you. There's so much more value in making sure you're excelling at things outside of what you have tunnel vision about. I can be a good teammate and good friend, communicate well and be a good student.
 
"The same goes as a physician," Pearce continued. "I can know everything, study all the books and make sure I'm doing all the right things day-to-day in clinic, but at the end of the day, it's so important to be well-rounded and make sure I'm working well with the nurses and other physicians."
 
Pearce had a team-first mentality while at Lehigh, and Troyan isn't surprised she's carried it over into her professional career as a doctor.
 
"Kaela understands how to work under pressure, how to work in a team environment and how to lean in and handle the most adverse problems through teamwork and critical thinking," said Troyan.  All of these lessons were learned in the classroom and on the basketball court at Lehigh, and are now being applied to her professional career in the military and medical field."
 
Medicine is a team sport, much like basketball, which demands plenty of thinking on the fly.

 
"I think about when we used to watch film," said Pearce. "It demanded preparedness of 'if this happens, then we do that.'
 
"I use that mindset every single day."
 
Pearce and her colleagues have been forced to adapt to the COVID-19 pandemic, especially in the area of telemedicine. Like stepping up on the basketball court, she was ready to step up and be a team player for her medical colleagues over the early stages of the pandemic.
 
"There was one point they had me pack my bags and get ready to go to New York," said Pearce. "I always knew deployment was a real possibility, but never thought if it did happen, that it would be to somewhere like New York City. I ended up not having to go, but had a really good friend from residency, an OB-GYN, who ended up going there. It's been really cool to see the military involvement and see how adaptable we are.
 
"These are obstetricians and gynecologists stepping up and helping other physicians in infectious disease or pulmonary critical care, helping in whatever ways they can," she continued. "It's been an honor to see how the military has played a role in all of this."
 
Even in "normal times," things can change pretty quickly for Pearce's line of work in obstetrics.
 
"We're helping deliver babies, who represent a whole new family, hope and excitement," she said. "We need to make sure we take the very best care of these people."
 
Quality care is what brought Pearce into medicine and OB-GYN in the first place. After another six months, she will bring that care to North Carolina.
 
"I have another six months of active duty service time and at that point, both my wife and I are from North Carolina, so we're going to move back there," said Pearce. "I have a job set up at a private practice. It's much smaller [than Brooke Army Medical Center] – a group of four or five physicians and six or seven midwives."

 
Pearce is in the midst of a fulfilling career that includes making a difference in so many lives.
 
Remember the quote from her brother about having a responsibility when you have a gift?
 
Kaela is living that out in a meaningful way.
 
"The biggest advice I give to people is to trust themselves, trust what feels right and where they feel like they fit in," she said. "There are so many steps I've taken in my journey that I've taken weeks to think through, but at the end of the day, I've gone with a gut feeling. For example, it just felt 'right' at Lehigh. Going up to visit, it felt like a family."
 
Pearce has gone through the same thought process since her time at Lehigh.
 
"Where I've ended up in medical school, residency and even here [in San Antonio], I've focused on what's felt right for my family and me," she said. "I remind myself to make sure I'm making the best out of what's around me."
 
For Pearce, that means using her gifts (medical talents) to give back.
 
Just like her older brother's favorite quote.