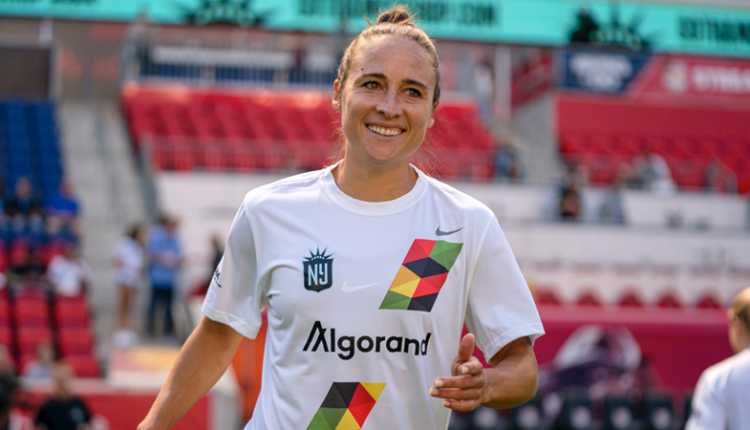 Lewandowski's Legacy – Lehigh University Athletics
Story Links
By: Justin Lafleur, Lehigh Sports Communications
 
Gina Lewandowski '07 had a decision to make…
 
"Around my senior year of high school, I was thinking about and debating if I'd play soccer or basketball in college," she said. "I just found that soccer was my niche and something I was good at. It came easy to me; it was enjoyable and fun."
 
Safe to say, she made a good choice.
 
Flash forward nearly two decades and her career playing soccer is coming to an end, as she is retiring from the sport that has literally brought her all over the world. Lewandowski's final game for NJ/NY Gotham FC of the National Women's Soccer League (NWSL) is this Saturday at 7 p.m. at Red Bull Arena in Harrison, New Jersey. (For more information and to purchase tickets for the Lehigh section, please click here.)
 
Lewandowski has been playing professionally since the moment she graduated Lehigh in the spring of 2007. The thought of retirement recently began creeping into her mind.
 
"Towards the end of anyone's career, you consider when you're going to retire and what it's going to look like," she said. "The thought of retiring now versus later (after the season) kept creeping up."
 
Lewandowski plans on getting into coaching (she recently completed her coaching licenses), which made the decision to step away now easier.
 
"I have always wanted to end on my terms," she said. "I never wanted to go out with an injury or anything that forced me to the sidelines. I feel physically good and I feel at the top of my game. Some people say I should keep going, but I'm seeing more opportunities I want to pursue outside of playing soccer.
 
"I'm content where I've been in my career and everything I've accomplished, and I can look back and be proud of my journey."
 
As she should.
 
It was an impressive journey for Lewandowski, with Lehigh playing an important role in setting the foundation.
 
"My ideal school was around two hours away," said Lewandowski. "I didn't expect or want to stay close to home, but I didn't want to be too far away from home either. Manny Oudin (Lehigh's head coach at the time) reached out my senior year and shared some of his insights and visions for the program. I connected with him on a soccer level and had a recruiting visit to Lehigh.
 
"Once I stepped on campus, I loved the campus, the program and the girls on my visit, and I remember feeling it was 'right.'"

 
Lewandowski would be close to home, but not in her back yard. It was more like a few blocks away.
 
"I grew up in Coopersburg and went to high school in Allentown (Allentown Central Catholic), so I didn't really venture a lot into Bethlehem," she said. "It was a new landscape and new environment. Lehigh was definitely the perfect school where I could value my education and get a good opportunity to play collegiate soccer."
 
Lewandowski went on to enjoy a historic career at Lehigh, as the Patriot League Rookie of the Year in 2003 followed by back-to-back Offensive Player of the Year honors. To this day, she remains second in program history for career goals (36) and points (80).
 
"Manny Oudin and the assistant coaches at the time – like Mary McVeigh and Erica Walsh – really paved the way for my success," said Lewandowski. "I learned and grew so much as a player at Lehigh. My junior and senior year, just like any junior or senior in college, you think about what comes next.
 
"I really wanted to keep playing soccer," she continued. "We didn't have a professional women's soccer league in the United States in 2007, so my only opportunity would be at the amateur level. But Mary McVeigh told me about her stint in Iceland."
 
The thought of playing overseas didn't initially pique Lewandowski's interest, but the interest would return to the surface in time.
 
"My senior year, I visited my family in Germany with teammate Erin Iwaskiewicz," said Gina. "After my senior season, we were having a conversation about playing soccer after college. Erin also encouraged me to pursue opportunities in Germany and see what I could do as an American playing professional soccer overseas."
 
The spring of Lewandowski's senior year was when that became a serious goal.

 
It helped that Gina had family in Germany, too.
 
"Having family over there served as an amazing support system to pursue something I enjoyed and loved to do," she said. "They really set the foundation for my success. They gave me an opportunity to stay with them, supporting me and my journey. They found contacts in Frankfurt, and in other cities and clubs, where I could seek out tryouts."
 
Lewandowski's professional career would begin with 1. FFC Frankfurt in 2007. During the 2007-08 season, she became one of the only Americans to ever capture a treble (when a club wins three trophies in a single season) – winning the Frauen Bundesliga, the Frauen Pokal and the competition now known as the UEFA Women's Champions League.
 
In 2011, Lewandowski briefly returned to the U.S.
 
"My contract was over in Frankfurt and it was the World Cup at the time in Germany," she said. "It was always a dream of mine to play in the states. I had the opportunity to come back; the season ended in April because of the World Cup.
 
"I ended up playing with the Western New York Flash of the WPS (Women's Professional Soccer) for that season," Lewandowski continued. "There were rumors that the league was going to fold, so I continued to have my connections stay alive with Frankfurt and after the summer, went back to Frankfurt and played one more season before transferring to Munich."
 
Lewandowski loved Frankfurt, but felt it was time for a new experience.
 
"I wanted a change," she said. "I wanted to expand my horizons and grow as a player and person."
 
Lewandowski looked at some teams in Sweden and France, but the seasons were played at different times than the German season, so she wouldn't be able to secure a tryout until that summer.
 
"Bayern Munich found out I was leaving Frankfurt at the end of the 2012 season, so they contacted me and asked if I'd be interested in coming to them," said Lewandowski. "I thought if I was going to stay in Germany, I might as well stay with my family (with Frankfurt). Why would I go somewhere else in Germany? I'd rather go to another country.
 
"Originally, I said no to Munich because I wanted to seek other opportunities, then they came back to me in April and said they'd love to at least meet me," she continued. "I was 27 at the time and I'd been living with my family in Frankfurt for five years and just needed a change. I wanted to be on my own and be a little bit more independent."
 
So, Lewandowski considered.
 
"I visited the club, met the coach and had a talk with some of the players," she said. "There were two Americans on the team at the time (one of which was Ali Krieger who is a current teammate of Lewandowski's with Gotham)."
 
Lewandowski could relate with the Bayern Munich team, which is also a world-class club.
 
"It was the right opportunity," she said. "I connected with the coach and the players and it was a good opportunity to grow."
 
Lewandowski's career with Munich lasted until 2019, when home was calling (as her dad and step dad were having health issues).

 
"I didn't know where the game would take me or if I would continue to play," she said. "It wasn't my main thought. My focus was just to be back with family and then Sky Blue FC (the NWSL club which turned into Gotham FC) had an opportunity and that sparked this newfound joy and motivation to keep going.
 
"When I got to Sky Blue, I dove right in. They had a vision to make the team, the club, better and get to the next level."
 
Lewandowski helped do just that. In 2021, the club moved to Red Bull Arena and changed its identity to NJ/NY Gotham FC. All the while, Lewandowski has played a significant role in the growth of the club… and the game.
 
"Once I started my career in 2007, I've seen a massive development of the game and the interest, in the support and in the funding," she said. "Seeing the game get to that next level has been amazing to partake in. Without the fans, we wouldn't be here, so their support has been tremendous and valuable in getting to a league (the NWSL) that's sustainable."
 
Speaking of the United States, Lewandowski has a cap with the U.S. Women's National Team in a friendly against Brazil on Oct. 25, 2015. She entered in the 74th minute, and (ironically) came in for her former 1. FFC Frankfurt teammate Krieger.
 
"Playing at the highest level, playing for your country, is definitely an amazing feeling," said Lewandowski. "To stand on the field and represent your country was a very proud moment. I never thought I'd get to that level and reach that environment, but my playing career in Germany really set the stage for me to be successful.
Gina Lewandowski '07 (@gll088) will be playing the final soccer game of her 15-year career on Saturday for @GothamFC. One of her career highlights came in 2015 when she suited up for the @USWNT.
Gina recalls that moment and what it meant to her. pic.twitter.com/2c3IhXSlS9
— Lehigh W. Soccer (@LehighWSoccer) June 29, 2022
At Lehigh, Lewandowski was a midfielder/forward and progressively over the course of her career, became more defensive-focused. When thinking back to her soccer career as a whole, Lewandowski remembers the intangibles more so than tangible games played or goals scored.
 
"There are so many valuable life skills that you can learn from playing sports," she said. "I think about setting goals, discipline, hard work and perseverance, winning and losing, success and failures, and just growing as a person through the obstacles and challenges.
 
"Soccer is a team sport, so it's about teamwork and working together," Lewandowski continued. "There are so many different life skills and values I've been able to learn playing sports growing up. It kept me focused and disciplined in my life and created a lifestyle – this mentality and healthy lifestyle I've been able to cultivate."
 
It's a mentality those around her notice.
 
"What a career," said Gotham FC head coach Scott Parkinson. "Looking back on her career, she will leave behind more than I think she'll ever know in regards to how to be a pro week in and week out for so long and be able to do it the way she does it. She's one of the fittest, strongest, healthiest people on the squad. She will leave behind a legacy within this club on how to be a proper pro and just keep her head down and keep going."
 
Parkinson continued to bring up Lewandowski's professionalism.
 
"Her professionalism explains how she's been able to perform so well for so long at the highest level, and she's as fit as a fiddle," he said. "She could play for years more. She's low maintenance, but a high, high professional. She just shows you the way on how to come to work every day and get the job done and be ready to go."
 
Sports gave Lewandowski direction, purpose and value in her life.
 
"It gave me something to work towards and goals to achieve," she said.
 
Soccer has been, and will continue to be, a huge part of Lewandowski's life, but doesn't define who she is.
 
"The older I've gotten, I've started to realize it's not who I am," she said. "It's just what I do. It's like in any job; you want to balance your life and your work. You have a different identity.
 
"It was a life lesson going through the ups and downs and the challenges I've experienced over my career, where I had to step back and look at myself and say who am I? What do I value outside of soccer? What am I good at? What are my strengths?"
 
Lewandowski's soccer career will be transitioning from playing to using her coaching license at some point hopefully in the near future.
 
"I've always had a passion to mentor, to help coach the younger generation and share my experiences and what I've gone through," she said. "I love the game, love analyzing the game, love game film and love sharing my perspectives of the game."

 
For now, Lewandowski is looking forward to her final soccer game as a player.
 
"I'm just grateful for all my support systems at home, overseas and all the fans," she said. "I'm grateful for the support, and continuous encouragement and guidance throughout the years. I'm really excited to see how the game will continue to grow."
 
"We're going to miss her like mad," said Parkinson. "But she'll leave a legacy behind with this club on how to be a pro that will way outlast her and probably any of us here right now."