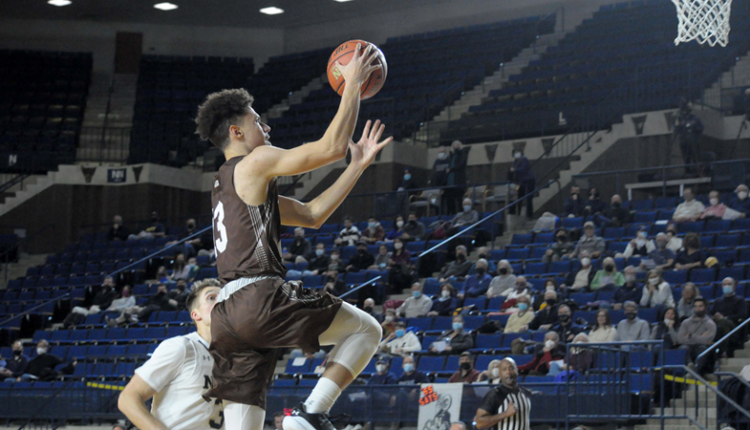 Higgins Jr. Named Patriot League Rookie of the Week for Third Consecutive Time
story links
Complete the release of the Patriot League
BETHLEHEM, Pa. – After two other strong efforts, men's basketball Lehigh's Keith Higgins Jr. was named Patriot League Rookie of the Week for the third consecutive year, it was announced Monday. He is the first player in the league to win Rookie of the Week for three consecutive weeks since Holy Cross' Joe Pridgen three seasons ago in 2019-20. He is the first Mountain Hawk to win the award three weeks in a row since Tim Kempton in 2013-14.
Higgins averaged 15.0 points and 5.0 assists in two games last week as the Mountain Hawks won at Navy (69-61) and then lost a tight contest at Boston University (80-74). He started with 14 points and a career-high seven rebounds at Navy, shooting 2-of-3 from 3-point range. Ten of those points came in the second half. Higgins added 16 points and eight assists at Boston University on Saturday, with 10 of the points coming in the second half for a second straight game.
For the season, Higgins is averaging 15.5 points per game in the Patriot League and reaching double digits in 7 of 8 league competitions.
📹 @keith_higgins15 with another. Do the🎖🎖🎖 straight @PatriotLeague Rookie of the Week honors! pic.twitter.com/BgNhCstGG4
— Lehigh M. Basketball (@LehighMBB) January 24, 2022 Junior Evan Taylor also received an honorable mention on the Patriot League Weekly Honor Roll after averaging 18.5 points and 5.5 rebounds last week.
The Mountain Hawks return home Wednesday for a 7:00 p.m. Army West Point reception. To buy tickets, please click here.
Like Lehigh men's basketball on Facebook, Follow Twitter and Instagram for exclusive content, team updates and more.