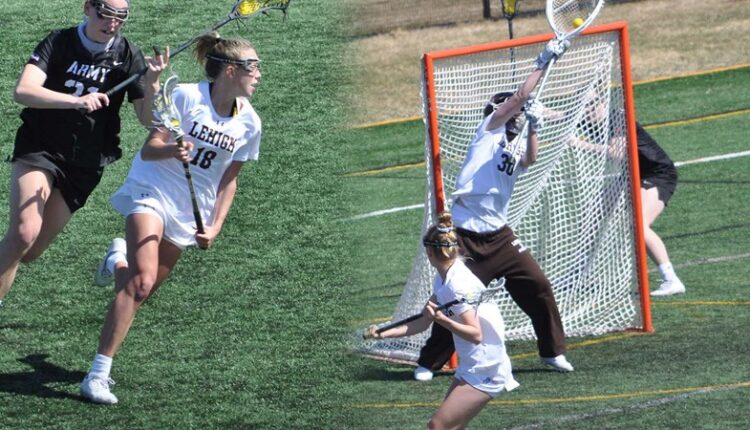 Dickey and Sagi Pick Up Patriot League Weekly Awards
Story links
Complete publication of the Patriot League
BETHLEHEM, PA. – After a 14-7 win over Army West Point on Saturday, Lacrosse graduate Sondra Dickey and Lehigh senior Samantha Sagi were named Patriot League Midfielder and Goalkeeper of the Week, respectively, as announced on Monday. Dickey won the award for the third time in the first five weeks of the season and for the eleventh time in her career. As a team, Lehigh has won at least one award except for a week this season.
Dickey put in a great all-round performance against the Black Knights, scoring six goals, an assist, three ground balls, a generated turnover and eight draw controls. She scored Lehigh's first two goals and five of his first nine when the Mountain Hawks took an 8-0 lead at halftime. On Saturday, Dickey ranked 10th in program history for career groundballs (123) and 10th for assists (51). She was the first player in program history to be in the top 10 of these two categories, along with goals, points, draw controls and generated sales. Dickey was also part of a Lehigh defense that held up a strong Army attack goalless for the first 32:34 of the game. For the season she now has 17 goals, 19 points, 15 ground balls, 10 generated sales and 20 draw controls.
Sagi's weekly award in the Patriot League marks the fifth part of her career and was goalkeeper of the week for her sophomore year. As a newcomer, she won the rookie of the week once and the defensive player of the week twice. On Saturday, Sagi stopped all 10 shots she sent in the first half to help Lehigh take an 8-0 lead at half time. In the end, she stopped the first 11 shots for the game and ended the season with 16 saves, allowing only seven goals. She was part of a Lehigh defense that held up a strong army attack goalless for the first 32:34 of the game. During the season, Sagi saved 10.98 goals against the average and 50.0 percent.
PhD student Alexandra Ladda also received an Honorable Mention in the Patriot League's weekly roll of honor. As a defender, Ladda collected two groundballs in the afternoon, but also kept the Army top scorer, Caroline Raymond, who scored 18 goals and 25 points at team level last season, without a point.
With three straight wins, the Mountain Hawks are staying home this weekend to host Bucknell on ESPN + at 12 noon.
Like Lehigh Women's Lacrosse Facebook and keep following Twitter and Instagram for exclusive content, team updates and more.