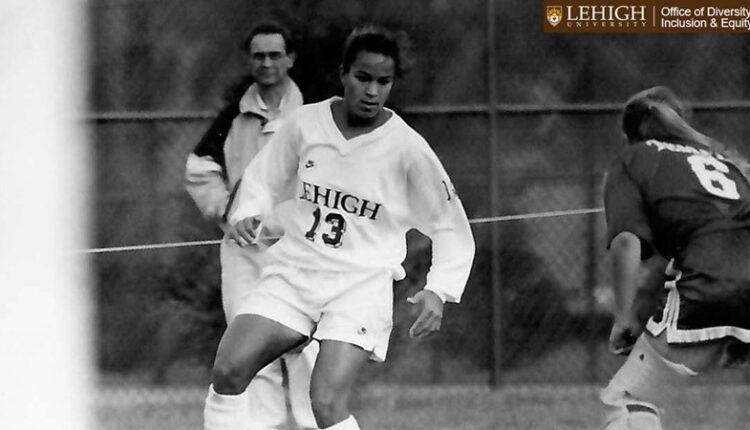 Smith Spreads Happiness to Her Students
Story links
Creator: Justin Lafleur, Lehigh Sports Communications
When Dia Johnson Smith thinks back to her time at Lehigh, she doesn't remember the games. She admits that they all run together.
Instead, she remembers something more important … something that has continued in her professional career.
"There was that one day when it was really raining outside in practice," said Smith. "Trainer [Allison] Moxey had us stick a piece of paper on the back and let us run around and write something good, something nice on every other player's back. "
At the end, Smith noticed a comment: "I love that you are happy."
She still has her newspaper today.
"I don't even know who wrote it," said Smith. "I didn't know I wasn't happy, but there must have been a couple of years when I didn't seem happy."
That moment led to lessons for Smith, which are still important to her work as a teacher today.
"I need to know how to face people," she said. "I really have to think about what matters, what makes me happy, and apply that to the younger children I teach."
The former great Lehigh women's soccer player has been teaching in the Lehigh Valley for not that long, in the Allentown School District for the past 22 years.
Smith currently teaches fifth grade.
"I am teaching with another teacher," she said. "He teaches the math part of our two home rooms and I teach the English-language art component, so I read and write."
Classes have been virtual since last March when the COVID-19 pandemic forced widespread shutdowns and changes in normal everyday life. There are many challenges associated with the changes.
"In March, a lot of our kids didn't have chrome books," said Smith. "We had maybe a maximum of 10 in the classroom, so we spent much of the school year making sure every child had a chrome book. Trying to virtually connect them to the chrome book was another challenging aspect of the remote this year." there are still technological problems and it is not always easy to get the children to school when they need help. Participation is also a great challenge. "
In large part because of her experience with Lehigh women's football, Smith felt ready to rise to the challenges she and her colleagues faced.
"We were on a club program a year before I arrived in Lehigh," she said. "I was used to being part of a high school program where we won all the time. Then you start in an environment where you will take your hits. It was an adjustment. You had to learn how to work with them. " a different group of people and set goals differently.
"This is a part that I can teach virtually," continued Smith. "My goals at Lehigh weren't the same as those at high school. Perhaps our success wasn't in wins and losses, but in getting through the season and surviving at the level required by the Patriot League."
Today in the classroom the goals have certainly been adjusted.
"I'm not a computer person, so success for me is very different from that for my co-teacher," said Smith. "I try to take it one day at a time and express to my kids that we are all together. We will fight and sometimes when you fight you learn different ways of doing things and what success looks like for you.
"In that regard, as a student-athlete, it helps you learn how to balance your goals and expectations when things are different and challenging."
Just as as a soccer player – when the hiring of a team was critical – so is Smith's role as a teacher today.
"We had this new tutorial earlier this year and a couple of parents really got in touch and said they figured out how to do that with the learning platform and it seemed to work well," said Smith. "We took up your suggestions, implemented them and that helped us to work as a unit in the classroom and to experience this success together.
"For the whole class to succeed, it only happens if we all have the same success," she continued. "If one person doesn't get it, we can't really go on until everyone understands how things are going."
The Lehigh Valley is special to Smith, who has lived in the area all her life. Growing up in Quakertown, she often attended Lehigh basketball games with her mother, which helped introduce Lehigh.
"My mom put this huge scrapbook together," said Smith. "Back then we had scrapbooks of my high school clippings and she sent them to Coach Moxey, who stretched out and said she was very interested in having me as a sports student at Lehigh."
The opportunity to qualify at Lehigh was a no-brainer.
The transition to Lehigh has not always been easy, but Smith credits the program's seniors (Erin Gallivan, Donna Corrado, and Sara Dill) for helping her get through.
"They were the three most amazing women and leaders," said Smith. "I was scared to death about how school was. The three of them led the newbies in incredible ways and were excellent role models, guiding us and showing us the ropes. I had to learn how to get out of my shell.
"During my first week in Lehigh, I cried in front of my parents every day, but the second week after joining the team, I stopped crying," she continued. "I had a great time and I feel like I can attribute a lot to the senior leadership."
Smith couldn't be more appreciative of the welcoming, inclusive environment.
"I was the only African American on the team," she said. "I certainly didn't have the socio-economic status of the other girls on the team, but they never treated me differently. I was just one of them. I always felt hugged, valued, valued – like everyone on the team."

Smith pioneered the Lehigh women's football program, which continues to have great success to this day. She remains the program's record holder for goals (37) and points (99) in a career and is the first in assists (25). Smith is also in the Lehigh Athletics Hall of Fame.
"It means so much to be considered one of the pioneers of Lehigh women's football," said Smith. "It was a great honor to be accepted and to be remembered forever with people who influenced Lehigh in such powerful ways. Football has brought me so many advantages that I would not have had. I attribute a lot to my mother, and my father was just as amazing. "
Smith's father opened the door to football when she was five years old.
"He was a truck driver and spent countless hours playing in the fields with my brother, sisters and me," she said. "He was never too tired. My parents went to every single game we ever played.
"When we played intramural, he would often take us out on the field late at night," continued Smith. "If we didn't win, we'd have to run laps around the field.
"He built the expectations and commitment to success that I built into my experience at Lehigh."
That commitment to success was also a staple throughout Smith's career in education. When she first arrived in Lehigh, she actually wanted to study law.
"I would say my first real desire to be a teacher was when I was training in summer camps," she said. "I had a phenomenal time and experience with the other camp counselors and the kids, teaching them how to do something new and seeing the love for the sport we all shared."
Smith continued to coach after graduation and eventually move on to teaching. Her bachelor's degree was in sociology, then she returned to Lehigh as an assistant coach and earned her master's degree in elementary education.
The rest is history.
Smith is also a proud mother of two.
"Michael (who is currently a junior at Lehigh) and Brianna (who is currently a freshman at Prairie View, Texas) are both academically excellent at their schools and the way they handle the challenges of pursuing higher education amid a The global pandemic is an inspiration to me, "said Smith. "I am so grateful to them and the message of tenacity that they bring me something every day."
Despite the challenges posed by the COVID-19 pandemic, Smith remains passionate about the difference it can make in young people's lives.
"What I love about my job are the students I teach," she said. "You can have the absolute worst day and walk into the classroom or zoom in as it is and all you need is a kid to say something incredibly nice or funny and your mood will drop instantly. "

Smith shared a recent example.
"I usually wear my hair up in a bun, but one morning – while doing this interview – my hair fell out," she said. "Within the first 10 seconds one of the students said, Oh my god, I really like your hair; you should wear it down more. And I was like wow, that was an amazingly nice thing for you to say.
"I feel that if I can say nice things to the children and they learn to be kinder people, from what they see of me, their parents and other children in our classroom, it is very motivating."
Smith is a light in the lives of these children and carries on the message she received from a teammate decades ago
"I love that you are happy."
"The quote reminds me that even though times are tough and challenging, the children are happy," said Smith. "If people say kind things to you, if people treat you kindly, then you will likely be a happier person and at the end of the day I just want my students to be happy, successful, and kind.
"If I can play a small role, I will do everything in my power to make it happen."
As part of Black Excellence Month in collaboration with Lehigh's DEI Office, we are proud to present former sports students and color coaches. This week we're sharing the story of the former great @LehighWSoccer Dia Johnson Smith '96!
Check back on Wednesday for the full feature story. pic.twitter.com/Na0XWvjuIR
– Lehigh Sports (@LehighSports) February 8, 2021