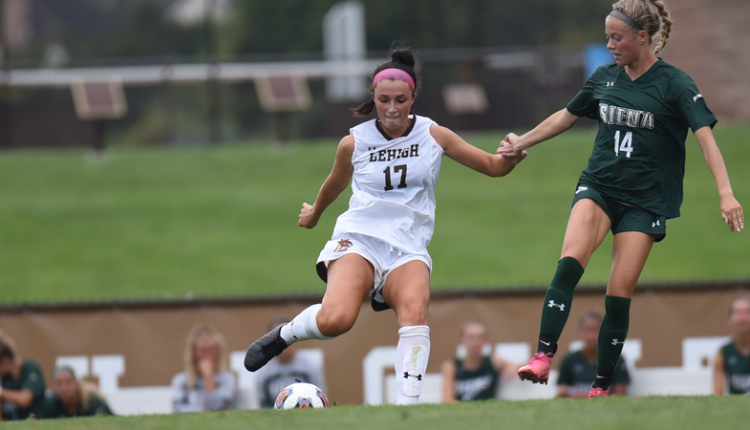 Lehigh Set To Host Lafayette Wednesday, Visit Holy Cross Saturday
story links
BETHLEHEM, Pa. – Lehigh women's soccer plans for a busy week ahead with two league games. The Mountain Hawks will first participate in the Rivalry when they face Lafayette Wednesday night at the Ulrich Sports Complex. The game is set for a 7 p.m. kickoff and is presented by Lehigh Valley Orthopedic Institute. Lehigh then travels to Worcester, Mass. on Saturday to play Holy Cross at 7 pm Both games will be streamed on ESPN+.
After a league opening 1-0 loss against Army West Point on Friday, the Mountain Hawks (2-4-1) are looking to secure their first Patriot League win of the season. Lafayette (2-6-1) is also 0-1 in Patriot League play as the Leopards fell to Boston University this past weekend.
Senior Mattie Murphy currently leads Lehigh for overall team points with one goal and three assists on the season. Sophomore Corinne Lyght has also seen success as the team's leading scorer so far this fall with two goals.
Lafayette's standout player has been senior Sara Oswald who leads the team with seven overall points. Oswald scored the game winning goal against Seton Hall and scored the only goal this past weekend in the Leopards' 2-1 loss at Boston University.
Lehigh leads the series 20-9-2 against Lafayette with the Mountain Hawks securing the most recent win last September. Emma Roesing scored the game-winning goal with an assist from Lyght with just 24 seconds left in regulation.
Holy Cross women's soccer (0-5-4) is still looking for its first win of the 2022 campaign. The Crusaders opened Patriot League play against American on Saturday afternoon, but the game ended in a 1-1 tie. Freshman Kailee McCabe scored her first collegiate goal against the Eagles.
Before hosting Lehigh on Saturday, the Crusaders will travel to West Point, NY to play the Army Black Knights on Wednesday evening.
The Mountain Hawks lead a close series against Holy Cross 14-13-2. Lehigh is unbeaten in the past five meetings, including a 2-1 win in Bethlehem last September.
Like Lehigh Women's Soccer on Facebook, follow on Twitter and Instagram for continued updates on the Mountain Hawks.
Story by Mari Ruggeri '23