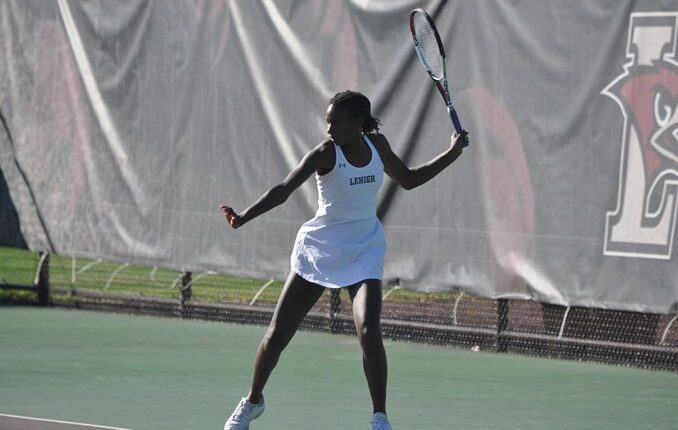 Mountain Hawks suffer first loss of the season on Sunday to Villanova
Story links
BETHLEHEM, Pa. – The women's Lehigh tennis teams (2-1) suffered their first loss of the season 6-1 against the Villanova Wildcats on Sunday afternoon. The Mountain Hawks competed outside on the Ulrich Courts and tried to get past their opponents.
Brown and White fell out in doubles and fell in three highly competitive games. Lehigh lost 1st place (Paula Gonzalez / Leighanna Moskos) and 2nd (Ella Imhof / Casey Zhong) 6: 4. In 3rd place, Junmoke James and Anshika Singh fell 6: 3 against their opponents.
Villanova was able to record five wins in the afternoon. Freshman Rachel Buchinsky took the only win for the Mountain Hawks in 5th place. The senior college player fought in straight sets 7-5, 6-4 for a back and forth win. In third place, the second James dropped her match in straight sets with a score of 6-3, 6-4.
The senior Zhong, who started in 4th place, competed against her opponent, but dropped the match in straight sets with 7: 5, 6: 3. Then, in 6th place, the junior Singh almost rallied to win a set, but could not collect enough points and dropped her match 6: 4, 7: 5.
Next, Lehigh will return to the Patriot League game and head north to Colgate next Saturday for a showdown. The Mountain Hawks will try to improve to 2-0 through the league plan.
SINGLES
No. 1 Paula Gonzalez – Annalize Klopfer: L, 3-6, 0-6
No. 2 Ella Imhof – Claudia At least: L, 0-6, 6-7
No. 3 Junmoke James – Lexi DeNucci: L, 3-6, 4-6
No. 4 Casey Zhong – Emily Strande: L, 5-7, 3-6
No. 5 Rachel Buchinsky – Caitlin Fisher: 7-5, 6-4
No. 6 Anshika Singh – Bella Steffen: 4-6, 5-7
DOUBLE
No. 1 Gonzalez / Moskos – DeNucci / Klopfer: L, 4-6
No. 2 Imhof / Zhong – At least / Strande: L, 4-6
No. 3 James / Singh – Grigorian / Kenny: L, 3-6