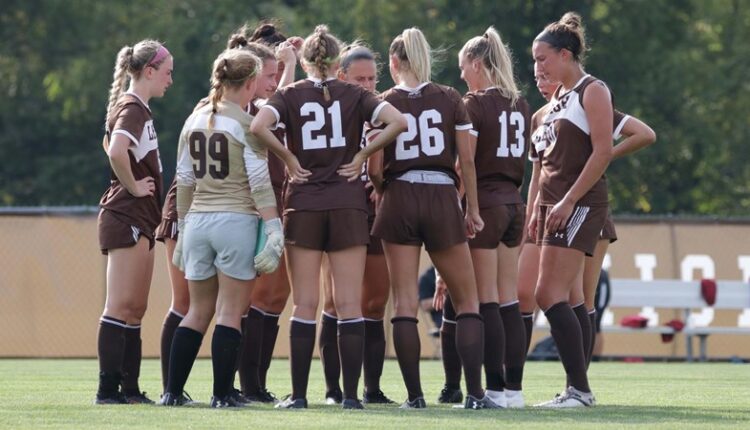 Mountain Hawks Kick Off 2021-22 Athletics Schedule at Monmouth Friday
Story links
Watch it live on ESPN +

Live statistics
BETHLEHEM, Pennsylvania – The Lehigh women's soccer team begins the Lehigh Athletics 2021-22 schedule on Friday, when the Mountain Hawks travel to Monmouth to compete against the Hawks. The opening start is scheduled for 7:00 p.m. on ESPN +. The teams have played each of the last five full seasons (except last spring), with Lehigh holding a 1-0-4 record against perennial MAAC power.
The Mountain Hawks are heading into the 2021 season with many returning talents. It is worth highlighting the returnees of the second team of the All-Patriot League and the third team of the All-Region, Erin Keefe, who anchored the defensive line, along with the winners of the third team of the All-League Ryelle Shuey and Rebecca Van Siclen. Last season, Lehigh's defense continued to shine, allowing only four goals in six games, including three shutouts. Meanwhile, Van Siclen scored an impressive goal in a 1-1 draw against eventual Patriot League finalists Colgate.
The Mountain Hawks are due to replace recently graduated Miranda Royds in goal after scoring 0.60 average goals and 84.6 savings percentages last season, down from 0.82 GAA and 84.9 savings percentages as a juniors. Three goalkeepers fight for the time between the pipes – junior Celia Eitzel, student Violette Bonvallet and newcomer Abby Trainor.
After appearing at the MAAC Championship Game last spring, Monmouth was recently voted a preseason favorite this year. For the last full season, the Hawks finished 14-2-3, including 10-0-0 in the MAAC. One of the only teams tied or defeated Monmouth was Lehigh – a goalless draw in Bethlehem. Three Monmouth players have been named to the preseason All-MAAC team: defenseman Sarina Jones, senior midfielder Jill Conklin and senior striker Lauren Karabin.
Monmouth lead the all-time streak with Lehigh 9-4-5 but the Mountain Hawks are 1-0-4 in their last five games. The last time the teams played at Monmouth, Lehigh won 1-0 behind a goal from Kayla Arestivo. The teams first met in 1992, a 5-3 win at Monmouth.
After the kick-off on Friday, the Mountain Hawks will be back in action next Thursday, August 26th, in Drexel.
Like Lehigh Women's Soccer on Facebook, Consequences Twitter and Instagram for more updates on the Mountain Hawks.