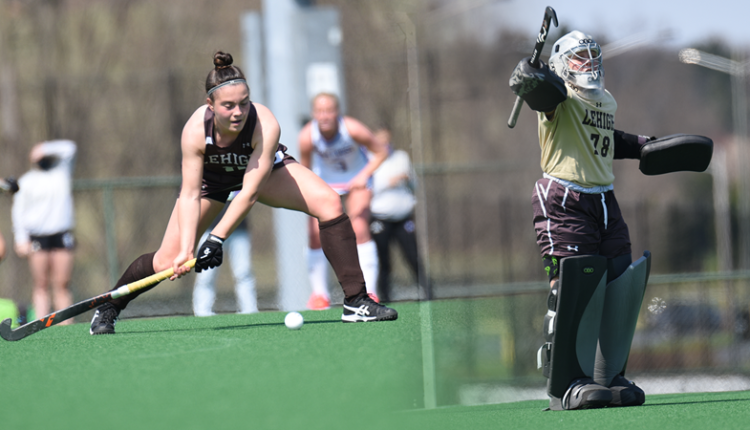 Havas and Kahn Named Preseason All-League; Mountain Hawks Picked Fifth
Story links
Full release of the Patriot League
BETHLEHEM, Pennsylvania – A pair of outstanding Lehigh field hockey players were named to the preseason All-Patriot League team on Thursday, while the Mountain Hawks were named fifth in the preseason poll. PhD student Lenke Havas and junior Maddie Kahn were honored a season after they both received the post-season All-League and NFHCA All-Mideast Region awards.
As a team, the Mountain Hawks were predicted to be in fifth place and collected 50 points. Lehigh was just two points behind Lafayette and finished fourth. American topped the poll with 96 points (eight votes for first place), followed by Bucknell with 93 (two votes for first place) and Boston University with 90 (four votes for first place). After Lehigh, Holy Cross was sixth (39 points) and Colgate seventh (21 points).
Last spring, Havas became the first Mountain Hawk to be named the first Team All-Region since Christy Smith in 2007, and only the second in program history. Havas is a three-time All-Patriot League first-team winner and also the program's first-ever four-time All-Patriot League winner (she was called up to second-team in her rookie season). Havas has been a key factor across the field and saw a lot of time in midfield and as a center-back last spring. Offensively, she scored three goals and six points, both tied for the team leadership. Havas scored two goals in Lehigh's 4-0 win over Bucknell, the biggest win against the Bison in program history. She also scored a big goal in the first half at Boston University's No. 20. Havas made a defensive save against American and helped anchor a defense that had the fewest goals in the Patriot League game since 1996 (and the best-in-goal margin).
Also an All-Region award winner (named to the second team), Kahn was dominant in four games last spring – she stopped 29 of the 33 shots and scored an 87.9 percentage rate which was good for second national place. The Patriot League goalkeeper of the year also took second place in the country in saves per game (7.25). Kahn helped Lehigh to successive shutouts to open the season for the first time since 2000, when the Mountain Hawks defeated Lafayette and Bucknell for the first time since 2004 in the same season. Kahn followed these shutouts with eight parades against Holy Cross and 10 stops at American. One of those goals against the Eagles came on a penalty kick. Kahn has been voted Patriot League goalkeeper of the week twice. She scored 1.01 goals against average, a program record for a season while her percentage was good for fourth place in program history.
The Mountain Hawks are looking to build on the momentum of previous seasons as the entire squad return with the exception of goalkeeper Steph Brabender along with a talented class of four in the first year.
Lehigh will open its season on Friday August 27th in Villanova. Playing time is set to 6 p.m.
Like Lehigh on field hockey Facebook, Consequences Twitter and Instagram for more updates on the Mountain Hawks.
2021 Patriot League Field Hockey Preseason Survey
1st Americans (8 votes for first place), 96
2. Bucknell (2), 93
3. Boston University (4), 90
4. Lafayette, 52
5. Lehigh, 50
6. Holy Cross, 39
7. Colgate, Jan.
Field Hockey Major Awards of the Patriot League 2021
Preseason Offensive Player of the Year: Noor Coenen, American, Sr., M
Defensive player of the year in the preseason: Erin Zielinski, Bucknell, Sr., D
2021 Patriot League Field Hockey Preseason All-League Team
Noor Coenen, American, Sr., M / W
Georgia Davies, American, Sr., D
Miya Denison, Boston University, Gr., F
Thalia Steenssens, Boston University, So., M
Erin Zielinski, Bucknell, Sr., D
Kayla Kisthardt, Bucknell, Jr., M
Taylor Casamassa, Colgate, Sr., M / W
Caitlin Little, Holy Cross, Sr., D
Audrey Sawers, Lafayette, Sr., M
Lenke Havas, Lehigh, Gr., M / D
Maddie Kahn, Lehigh, Jr., GK