Cross-country skiing thrives at Regionals
The men's and women's cross country teams at Stevenson University got off to a strong post-season run at the Middle Atlantic Conference (MAC) championships hosted by Hood College on November 2nd.
The men finished second overall and swept three of the four best placings. Senior Patrick Watson won the program's first Individual Conference Championship with a 5 mile time of 24: 51.34 and won the race by over 22 seconds. Watson was named USTFCCCA Cross Country Athlete of the Year in the Mideast Region and an All-Region Performer. Senior Nikita Kulick All-Region was also honored at the NCAA Mideast Regional last Saturday.
Senior Iddriss Iddriss races the 8 km at the Shannon Henretty Invitational, where he finished third overall. (Photo by Sabina Moran)
Kulick finished third overall with a personal best of 25: 31.28 and received both the award for the first MAC team and the award for the entire region at the NCAA Mideast Regional. In addition, Senior Iddriss Iddriss was fourth at the MAC championships with a personal best of 25: 42.2 and thus also received the first team award.
The women finished third overall and set a new program record for the highest place in a conference championship.
Junior Emily Gates took second place overall with a 6 km time of 21: 42.9. Sophomore Mikhayla Sabo was 10th with a time of 22: 44.9. Both Gates and Sabo received the MAC first team award, while senior Kelly Winklbauer and newcomer Peyton Arbor received the second team award for all conferences.
According to Sabo, both the men's and women's teams had to prepare not only physically but also mentally for the regional tournament. "Running is 50 percent brain and 50 percent exercise," said Sabo.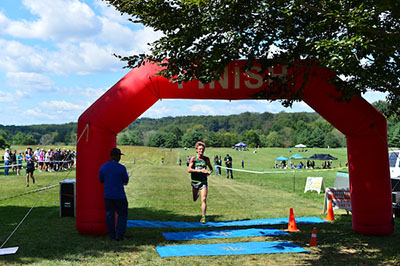 Senior Patrick Watson takes first place in the Shannon Henretty Invitational 8K. (Photo by Sabina Moran)
Head coach David Berdan encourages his runners to try meditation and breathing exercises to mentally prepare for big races. According to Sabo, the meditation practices, accompanied by harder training, healthier eating, and increased sleep, helped her prepare for the regional championships.
Gates and Sabo each received the USTFCCCA All-Region Award based on their scores at the NCAA Mideast Regional at Lehigh University in Bethlehem, Pennsylvania on November 16.
At the regional event, the women's team from 49 schools took ninth place overall. This is the best result of the program at the regional level. Gates finished third overall with a 6 km time of 21: 32.7, while Sabo placed 23 of 349 runners with a time of 22: 31.1.
For the men, Watson finished first with an 8k time of 24: 24.4, making it the first runner in program history to win a single regional championship. In addition, Kulick was 29th overall with a time of 25: 38.1, while Iddriss was 50th overall with a time of 26: 09.8. The Mustangs took 12th place out of 51 schools overall.
Both Gates and Watson will compete in the NCAA Division III Cross Country Championships on November 23rd at Tom Sawyer State Park in Louisville, Kentucky.