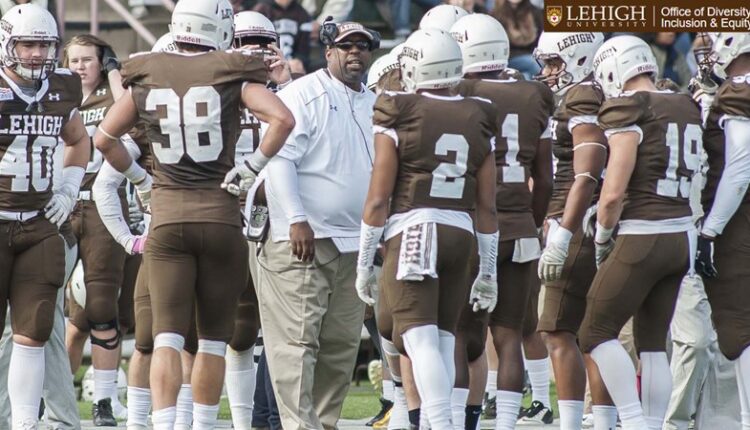 Roberts Embraces his Role Like a Dad
Soccer
02/04/2021 9:21:00 am
As part of Black Excellence Month in partnership with Lehigh's Diversity, Justice and Inclusion Office, Lehigh Athletics will tell the story of a former sports student or color coach every week. We'll start with former football assistant Donnie Roberts.
Story links
Creator: Justin Lafleur, Lehigh Sports Communications
Donnie Roberts is a former assistant to the Lehigh football coach. He is currently the Assistant Director of the Student Access and Achievement Center in the Diversity, Inclusion and Justice Office at Lehigh University.
Roberts had a few stops on his career journey, but there was a common theme at every step.
"Teaching and working with students and athletes is a role like a father," he said. "They don't go home to mom and dad in college. Hopefully they'll help them grow."
After teaching and training at Allentown Central Catholic High School in the early 2000s, Roberts was at a crossroads. He loved what he was doing, but former colleague Andy Coen had just been named chief football coach at Lehigh and offered Roberts a position on his staff.
"Lehigh was always very good to me and people were very good to me, so it was a breeze to come back," said Roberts. "Where I was [and still am today] is knowing the impact you have on young people. You don't always get instant gratification; sometimes it comes later. "
It took Roberts some time and patience to realize the impact he was having on others as a coach.
Let's go back to the beginning.
In high school, Roberts knew he wanted to be a teacher. After visiting Kutztown and completing his bachelor's degree in secondary education, a chance encounter helped spark Roberts' coaching career.
"My grandfather owned this piece of land," he said. "All of my aunts and uncles – my mother and her brothers and sisters – stayed on this piece of land. I grew up with a number of cousins. It was like our own little Roberts parish. We were 27 years old on this piece of land So we were always together.

"I was at my mother's house and wanted to visit one of my cousins ​​and run over what we called 'the yard'," continued Roberts. "I literally almost knocked over Mike Gottfried, the head coach at the University of Pittsburgh (who recruited a cousin of Roberts'). He asked me my name, how I was related and what I was up to."
Roberts said he had just graduated from Kutztown and was looking into graduate school opportunities.
"We exchanged phone numbers and about a week later he called and said he had a position for me as an assistant at the University of Pittsburgh," said Roberts.
Roberts started out in Pittsburgh in January 1987 with an impressive group of coaches.
"John Fox was the defense coordinator; John Harbaugh was also a graduate assistant at the time," said Roberts. "His father, Jack Harbaugh, was a staff member, so I dated some really, really great coaches. Scott O'Brien was the specialty teams coordinator who spent several years in the NFL with the New England Patriots. John Fox and John Harbaugh would / become NFL head coach. "
After Pitt, Roberts trained at Lock Haven, which proved to be an important step in his development.
"I followed my gut, took a jump and took the job at Lock Haven, which resulted in my training as a coach and teacher … really as a person," he said. "So many things in my life had changed during this time. My life journey has changed. It wasn't just the coaching aspect, but also the development of being a husband and a father."
Robert's first stay with Lehigh was in 1994-98. After some time at UConn, Roberts returned to Lehigh Valley (where his wife is from) to teach. This led to 2006 when a former colleague and friend was named Mountain Hawks' head coach.
"I had visited Andy (Coen) when he was with Penn and had ideas from him," said Roberts. "I didn't know much about attacking football, but as the high school head coach (at Allentown Central Catholic) I tried to learn as much as I could.
"When he got the Lehigh job, Andy called and asked if I wanted to come back, if I wanted to do this again."
In the end it was a no-brainer.
"My relationship with Andy is very strong," said Roberts. "He's my daughter's godfather. We always went head to head [in my first stint at Lehigh]. He was an offensive coach and I was a defensive coach, so we were always together and always competing against each other. "

Roberts is certainly happy to have returned to South Mountain. Despite the success the Mountain Hawks had during his two stints at Lehigh (winning seven Patriot League championships), individual games or achievements are not what appeals to him most.
It's the people.
"John Kennedy's ('11) interception against Lafayette (2008) or his interception in Northern Iowa (2010) comes up, but if you ask me about John Kennedy there are other stories I can tell you," Roberts said. "Sedale Threatt ('08) was offensive (quarterback) but came into the office I shared with trainer Gerard Wilcher on Thursdays to talk, and it was like a comedy show. I remember a kid watching us basically a Jerry gave Seinfeld to stand up about normal everyday things in life.
"When it comes to a specific game, I can't sit here and go through a season, but I can tell you about the kids who were involved."
Roberts was certainly happy with individual wins and successes, but those were temporary "highs". The real reason he trained was to have a long-term impact on the development of the people and relationships that were built.
"Over Christmas TJ Stubbs ('17) called and texted me and we played phone tag," said Roberts. "TJ lost his mother when he was in school, and it's hard for a 19-20 year old kid. He left Lehigh for a bit because he had to look after his family.
"We spoke on the phone recently and I realized again why I like to exercise … why I like to work with young people," continued Roberts. "TJ does a great job, he's fine, he's married, has a child. My last words to him were nothing more than to be safe and to be this great father.
"I just listen on the phone and wish we were on Zoom because I know TJ's smile. I imagined his smile."
Roberts no longer trains football, but in many ways he's still a coach.
"My current role is working with first-generation students – students who are underrepresented and low- and middle-income students," said Roberts. "It's all part of the American Talent Initiative, the ATI. We're a student resource unit. We work in a supportive role to ensure that their full experience at Lehigh is worthwhile and to unlock opportunities that lead to success." Lehigh and lead beyond. "
One of the main groups that Roberts works with is LUSSI, the Lehigh University Student Scholar Institute.

"It's a year-long program," he said. "Students go through an application process and once accepted they are familiar with the tools and resources we believe are necessary to succeed. Much like some of the things you do in athletics for your athletes to make sure they are connected to people, offices / centers and knowledge of the resources available through programming, workshops and conversation. "
Similar to coaching, Roberts loves what he does for short-term satisfaction in helping a student, but the greatest fulfillment is long-term success stories.
Lehigh's goal in general is to develop people for success after graduation.
"There are students that we / I want to keep updated," said Roberts. "Not to sit here and say that this is what you have to do, but to listen to your plans and goals. It's no different than coaching a football player. What are your goals? What do you want to do with them and how." are they we formulating a plan to get there?
"My duty is to provide the guidance that will help you achieve it [their goals]. "
Meanwhile, Roberts is also making a difference as an attorney for the new Student-Athletes of Color Leadership Council, who works with color co-trainers: Montell Allen, Khayla Atte. Noel Hightower Brandon Lemon and Zee Ortiz.
"These (young) coaches are the differentiators," said Roberts.
"For me the goal is to be a resource for students, to give them another person to exchange ideas about or ask questions. In many ways, you can see my role as a 'father'."
It's a role Roberts has played for decades and one that changes young minds every step of the way.
As part of Black Excellence Month in collaboration with Lehigh's DEI Office, we are proud to present former sports students and color coaches. We're starting this week with former @LehighFootball assistant coach Donnie Roberts.
Check back on Thursday for the full feature story. pic.twitter.com/aFG1bk5e2C
– Lehigh Sports (@LehighSports) February 1, 2021