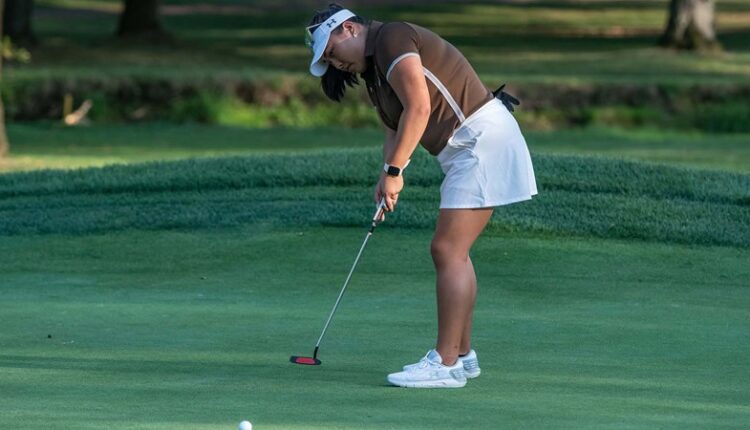 Season Preview: Small But Mighty Mountain Hawks To Begin Season Monday
Story links
BETHLEHEM, PA. – The Lehigh women's golf team starts a spring season with currently six tuning events and ends when the Mountain Hawks host the Patriot League championship on the Grace Course in Saucon Valley from April 24th to 25th Country Club.
Fourth year head coach Mary Kate Lynch starts her season with five available players as her team will open the season on Monday with the first round of competition in nearly a full year.
"It's a small but powerful group this year," said Lynch. "They are all excited to be back at the start and have worked hard to prepare. You have invested extra time outside of practice and are ready to do whatever it takes to make this season as successful as possible."
The Mountain Hawks are led by senior Angela Ding, a 2019 All-Patriot League second team player who finished third at the 2019 Lehigh Invitational and was named Patriot League Golfer of the Week for her efforts.
"Angela's leadership and experience will be tremendous this spring," said Lynch. "Even if our schedule is different from usual, she is still positive and grateful for any opportunity to reapply for her senior year. She has gone through ups and downs in her career and can help the younger players in those moments." She always played well in the Patriot League Championship and having Saucon this year I know will make it even more special. "
Three sophomores are returning for the Mountain Hawks. Hannah Foster played all 15 competition rounds during the shortened 2019-20 season and led Lehigh in the Battle of Boulder Creek in February 2020. Iris Shin played 11 competition rounds last season while Mendez played 10.
"The sophomores have gained a lot of perspective over the past year and have also grown as leaders," Lynch said. "I'm happy that you are continuing the great game you started last year."
The only active newcomer is Sophie Holland from Cornelius, NC
"Sophie is an incredibly talented player," said Lynch. "She looks forward to starting her college career and contributing to the team. It has been a challenge for her as she was quarantined for most of February through no fault of her own and couldn't practice as much as she'd like. But I know, even without being able to practice your talent, it will still shine through this spring. "
The Spring 2021 campaign kicks off Monday in the Monmouth Hawk Spring Series at Eagle Ridge Golf Club in Lakewood. NJ Lehigh will also play in Monmouth's second spring event on March 29th.
Other events include the Knights Shootout, hosted by Fairleigh Dickinson, and a home-and-home dual match series with Bucknell from March 20-21. Lehigh will host the bison on Saturday March 20 at the Steel Club in Hellertown, Pennsylvania. The last currently planned regular season event is a double game on April 5th in La Salle.
The Patriot League Championship returns to Saucon Valley Country Club April 24-25. Lehigh last hosted it in 2017. The Mountain Hawks finished fourth in the final 2019 Patriot League championship in Richmond, Virginia. Reagan Jahn '19 finished eighth while Ding finished ninth.
"The schedule is unique," noted Lynch. "It will be very different for us to play competitions with no practice round and with limited course knowledge. It will be a mental challenge for us, but we have to focus on the fact that every event will prepare us for SPS. Patriots will do it. " We are very excited to be hosts in Saucon Valley and to use our knowledge of home courses. "
The spring schedule for 2021 is still subject to change.