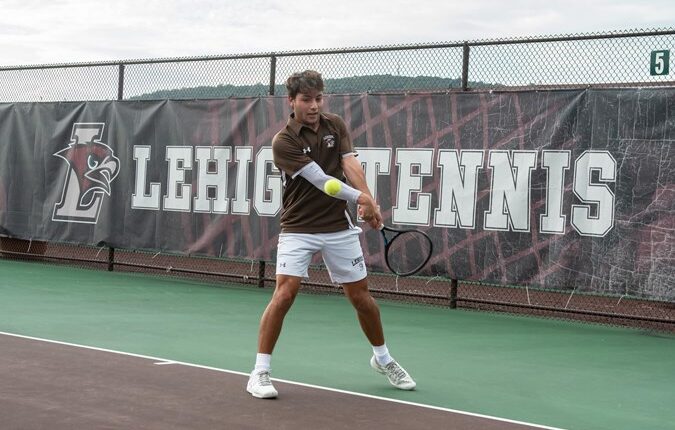 Mountain Hawks Head To Villanova Invitational To Kick Off Fall Season
Story links
BETHLEHEM, Pennsylvania – The Lehigh men's tennis team will take to the courts for the first time this season at the Villanova Invitational, which opens this fall, on Villanova's West Campus Tennis Courts on Friday. The Mountain Hawks will be one of seven teams to compete in the event, the first of four fall competitions that are on the slate.
This year's Villanova Invitational consists of two tournament classes – the Blue Draw and the White Draw – each containing 16 matchups. The tournament will again be a "two-and-one" format, with each matchup consisting of a double game followed by two singles to determine the team going up. The first-round winners will advance in the category, while the team that does not progress will compete in the consolation round.
Participating teams include Lehigh and the hosts, Wildcats, as well as Saint Joseph's, Colgate, Loyola, Johns Hopkins and Swarthmore.
Lehigh went 5-3 during the spring campaign with wins in the regular season against Villanova as well as opponents of the Patriot League, Loyola, Colgate and Bucknell. The Mountain Hawks won a 4-3 thriller against Boston University in the Patriot League quarterfinals before bowing to Army West Point in the semifinals.
The Mountain Hawks are led by Zack Elliott, who is starting his senior season as a two-time All-Patriot League honoree after receiving initial team honors in the spring. Elliott went 4-4 in the singles to the No. 1 position. He is part of a senior class that also includes Gary Fishkin, the hero of the victory over BU, and Andrew Nakhjavan.
Juniors Matt Kleiman and Jeremy Learner as well as sophomore Jordan Paul saw extensive individual action during the spring season. Other returnees are juniors Michael Bukhalo and Steven Nazaroff and second grader David Missry. Freshman Marc Blekhman is the only new addition this season.
At the Villanova Invitational, Elliott and Blekhman as well as Kleiman and Learner will represent the Mountain Hawks in the blue draw with 16 teams. Lehigh's pairings for the white tie are Paul and Bukhalo and Fishkin and Nakhjavan.
Following the Villanova Invitational, Lehigh will host its annual Fall Invitational in a hidden double format on the Goodman Campus from September 18-19. The Mountain Hawks will play at the Saint Joseph's Invitational September 24-26. Penn will host the ITA Regionals from October 14-19.