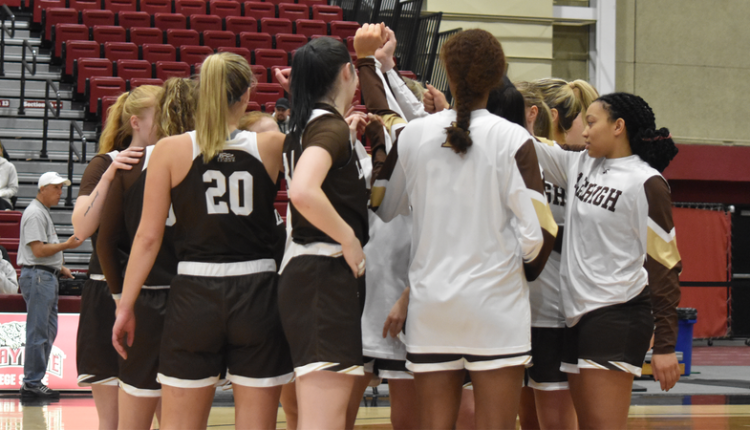 Lehigh Looks to Bounce Back Against Holy Cross on Wednesday
story links
BETHLEHEM, Pa. – The Lehigh women's basketball team will host Holy Cross on Wednesday at 6 pm in the second meeting between the two teams in the last two weeks.
The Crusaders are 16-3 overall and a perfect 8-0 in league play. The Mountain Hawks were the closest team in the league to knocking off the defending Patriot League regular season champions. Holy Cross won 66-64 on Jan 11, using a 22-9 fourth quarterer scoring run to remain unbeaten in league play.
Lehigh is 9-10 overall and 5-3 in league play. Their most recent loss was against Lafayette on Saturday.
Ella Stemmer had a career-high of 22 points in the first game against Holy Cross.
Frannie Hottinger notched her 11th double-double of the season against Lafayette, scoring 21 points and grabbing 14 rebounds. She's scored double digits in 18 of 19 games played, and sits 11th in the nation in double doubles, 16th in scoring (20.6 points per game) and 21st in rebounding (10.1 rebounds per game). Hottinger is just one of four players in the NCAA to be in the top 25 in scoring and rebounding.
Lehigh has the top two scorers in the Patriot League, with Hottinger leading the way and Mackenzie Kramer in second (16.4 points per game).
Lehigh is now 29-48 all time against Holy Cross. The Mountain Hawks are 18-17 at home and 11-25 away. Last time Lehigh hosted Holy Cross, Lehigh came out on top, winning 67-61.
Holy Cross is led by Bronagh Power-Cassidy and Janelle Allen. The two of them average double-figures. Power Cassidy is putting up 12.21 points per game, while Allen is averaging 10.1 points per game.
The Mountain Hawks are ranked as the No.1 offense in the league (72.2 points per game), while the Crusaders are the No.1 defense, limiting teams to just 52.2 points per game.
Tickets to Wednesday's night's game can be purchased at LehighTickets.com or by visiting the Stabler Arena box office prior to tip off.
Like Lehigh Women's Basketball on Facebook, follow on Twitter and Instagram for exclusive content, team updates and more.
Date: January 25, 2023
Opponent: Holy Cross
Tip off: 6 p.m
Arena (Capacity): Stable Arena (6,000)
Location: Bethlehem, Pa.
Lehigh's record: 9-10
Holy Cross's record: 16-3
Series: 29-48
TV: ESPN+
Print-friendly version