Flexibility is the name of the game for post-COVID US colleges, say CO panelists – Commercial Observer
Technology plays a central role in modernizing American college and university campuses as schools rethink how to maximize space in the age of Zooming.
Panelist at the fifth year of Commercial Observer "University building forum" On March 25, the COVID-19 pandemic announced that demand from students and faculties for colleges was only accelerated to invest in the latest innovations when creating capital projects. The issue has grown in prominence over the past year as virtual learning and work from home options have increased, leading to more unconventional approaches to tackling building use.
"The technology that we use and around which we design is at the highest level." David alonso, Vice President for Plant and Construction Management at New York University, said during the first panel: "Expansion of the technology campus."
"Modern technology is now paramount to our students and their experience," he added.
Gilbert Delgado, Deputy Vice President for Design and Construction at Northeast University Around 160 classrooms were set up for distance learning in Boston at the start of the pandemic. He said the pandemic had changed thinking about administrative offices as well. You can be outside of academic buildings due to improved remote working skills.
The first panel – Moderated by the deputy CO editor Tom Acitelli – also included Alex O'Briant, a client at Ennead Architects, and Tomas Rossant, a design partner at Ennead.
Rossant noted that the changes brought about by COVID will lead higher education institutions to experiment more with spatial uses and incorporate newer technologies. He recommends that universities invest in newer facilities that are more flexible to rapid technological change, rather than renovating older buildings. This is more of a challenge for schools like NYU and Northeastern, which are in large urban environments with expensive real estate costs.
"Renovating a 150-year-old historic chemical building is not a worthwhile investment in my opinion," said Rossant. "For the architecture / engineering community, we need to lean now to help these universities build really super-flexible buildings that are future-proof."
O'Briant said investing in technology in public areas of buildings will continue to be critical to adapting to the behavior of Generation Z students, who often prefer to continue the learning experience with their peers after class. He noticed that Purdue University In Indiana, this was taken into account when planning a new STEM laboratory building with Ennead, which provided additional space in the building's corridors and public areas for student collaboration.
Panellists emphasized that while the pandemic led to increased online learning options, the past year also increased people's desire to physically connect on campus. Colleges will offer more virtual classroom tools after the pandemic, but the need to invest in traditional campus infrastructure will remain for the foreseeable future.
"I think this will be a great way to see what options there are to change some of the connections between these buildings to potentially create adaptable spaces that can be used for outdoor learning, for example." Michael Bowden, associate with KPFF consulting engineers, said during the second panel, "Demand for multi-purpose rooms on campus."
Bowden added that the colleges also have the option to tweak some facilities slightly to accommodate mixed usage. He found that schools with more living space and classroom closer together could also create a desire for more retail / grocery stores nearby.
Brent Stringfellow, Deputy Vice President for Facilities at Lehigh University In Bethlehem, Pennsylvania, they say that while there is potential for more multi-purpose buildings on the college campus, there would always be specialty rooms, especially for research purposes. He noted that the way space is defined on campus is evolving and can lead to facilities geared towards conviviality, reflection, or study
"We love the efficiency of flexible spaces, but one of the problems we always run into is that everyone wants food everywhere and it gets expensive," said Stringfellow, who is also a university architect at Lehigh. "If everything has to do its job for every function, you lose some of these efficiency benefits."
Clockwise from top left: Michael Bowden from KPFF Consulting Engineers, David Kang from Boulder from University of Colorado Boulder, Brent Stringfellow from Lehigh University, and Jean Oei from The New School.
The second panel – moderated by Acitelli – also presented David Kang |, the University of Colorado Boulder Vice Chancellor for Infrastructure and Sustainability and Chief Facility Officer, and Jean Oei, Director of Spatial Planning The new school in Manhattan.
Stringfellow noted that it is important for colleges to conduct a cost-benefit analysis before paving the way for larger construction plans to see if the projects are maximizing the available space on campus. In some cases it might make sense to reduce the space in the facilities instead of investing in under-used buildings.
For student dormitories, panellists emphasized that even before the pandemic, the momentum was increasing for more suite-style dorms than for dorms with shared bathrooms on each floor.
The pandemic also hasn't slowed the clean energy projects that universities have been pursuing for the past decade.
"People are concentrating more than ever on indoor air quality." Steve Levine, President and CEO of AtmosAir solutionssaid during the third panel, "Sustainable Building Innovations and Security."
"There is an opportunity to really reduce our carbon footprint while still saving energy," added Levine.
Anne Papageorge, Vice President for Facilities and Real Estate Services at the University of Pennsylvania In Philadelphia, the school said it is staying on track with its Climate and Sustainability Action Plan, launched in 2009. The Ivy League institution is aiming for CO2 neutrality by 2042, which, according to Papageorge, would include reducing emissions and increasing renewable energies.
The third panel – moderated by KPF principal Jill Lerner – also included Diana Allegretti, Director of Design and Construction Cornell Tech in New York City and Conrad Talley, Director at EwingCole.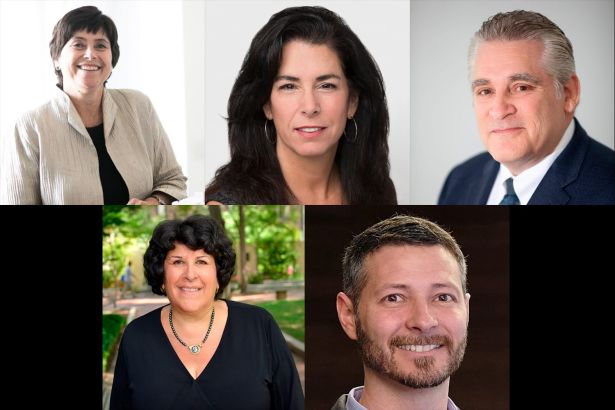 Clockwise from top left: Jill Lerner from KPF, Diana Allegretti from Cornell Tech, Steve Levine from AtmosAir Solutions, Conrad Talley from EwingCole, and Anne Papageorge from the University of Pennsylvania.
Talley noticed that the American Institute of Architects Environment Committee Top ten toolkit is an effective holistic approach that universities can use to approach sustainable design. The University of Wisconsin is an example of a higher education institution using this strategy. Talley said it is rounded as it encompasses the entire design process from procurement to cradle to grave.
Papageorge said the University of Pennsylvania is researching new technology for its next two construction projects that would include the first solid wood building in Philadelphia for a data science facility. She said the bulk wood would be built inside rather than outside due to climatic concerns.
The university also plans to use ethylene tetrafluoroethylene, a fluorine-based plastic, as a sun protection component for a new laboratory building for the first time.
"It's a turning away from us as it doesn't have the useful life we ​​normally get from our academic research buildings, but its embodied carbon is significantly lower and, even at replacement costs, is less carbon intensive and less expensive. Said Parageorge. "For the researchers, it was important that the building symbolizes the research that is taking place in it."