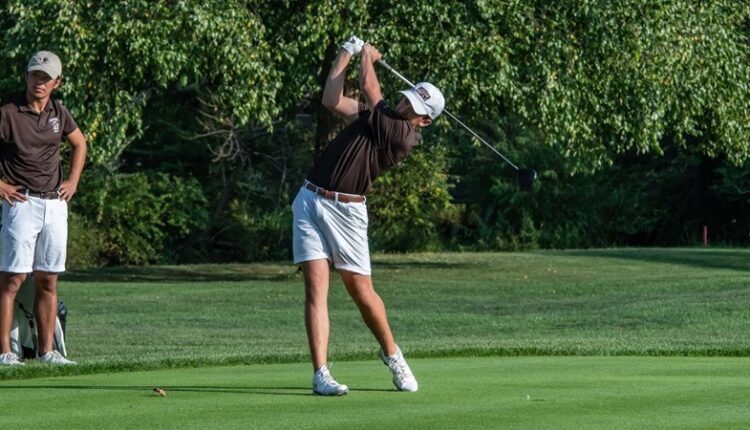 Season Preview: Men's Golf Excited For Return To Competition
Story links
BETHLEHEM, Pennsylvania – It's going to be a bit of a sprint for the Lehigh men's golf team as the Mountain Hawks prepare to open their spring season this weekend at the Rolling Green Intercollegiate in Springfield, Pennsylvania. The Mountain Hawks haven't played a competitive tournament since February 2020 and will now play four tournaments over four weekends in April, as well as the annual Presidents' Cup games with Lafayette to prepare for the Patriot League Championship on May 1-2 at Navy .
The Mountain Hawks were young last season with two seniors and seven newbies on the roster and will be even younger this year. Head coach Henry D'Alberto starts his 15th season with Owen Quinn in his fifth year, but the rest of the active squad consists of three sophomores whose freshmen have been cut and three true freshmen.
"Some of the guys came back to campus a little later because they could do more at home," said D'Alberto. "They've all done their job but haven't played in a while. It may take a tournament or two to get our feet under, but our team is very excited. We have some talent and hope is that . " we can put it together. "
Quinn owns two single tournament wins for the Mountain Hawks and has been honored academically at the Patriot League level and nationally, but returns with hopes of a strong finish in his most recent Patriot League championship.
"I'm delighted that Owen has the chance to play this spring," said D'Alberto. "Of course it was a shame what happened last year. Hopefully he can use the fifth year."
Second year left-handed Sam Barton returns after leading Lehigh in two tournaments in the 2019-20 season. Classmate David Hurly was a regular on Lehigh's line-up last year. The third active runner-up is Joey Dotta, who played in Lehigh's last three events in 2019-20.
The returning group of four includes newcomers Marco Arosemena from Panama, Edmund Broderick from New Jersey and Arthur Gilpin from Massachusetts as Hilton Head Prep.
"The newcomers are solid players with good games," said D'Alberto. "The sophomores are almost like newbies because they couldn't play all season. But they've all gotten better. I'm also looking forward to seeing some nice things from them."
The 2021 season begins Saturday at the Rolling Green Intercollegiate at Rolling Green Golf Club in Springfield, Pennsylvania. Navy will host this year's tournament, which is an 18-hole, one-day event with a shotgun launch at 1pm. The game is played in groups of three, each with three of their own players. A 13-team field includes Patriot League members Bucknell, Colgate and Lafayette, as well as two Navy teams.
After the Rolling Green Intercollegiate, Lehigh will attend Villanova's Wildcat Invitational April 12-13, Lafayette's Abarta Coca-Cola Collegiate Invitational April 18-19 at the Steel Club in Hellertown, and a multi-team event hosted by Bucknell on April 24th April play.
The annual Presidents' Cup games against rival Lafayette take place on Thursday April 22nd at the Hamilton Farm Golf Club in Gladstone, NJ. instead of
Navy will host the Patriot League Championship May 1-2 in Annapolis, Maryland.
"We're playing five straight weekends plus the Lafayette match," noted D'Alberto. "The good thing is that everyone has the opportunity to compete several times and show off their stuff, even if it's compressed. Hopefully we can bring a strong six to the Patriot League Championship and have a chance to make it to the final on Sunday." round."