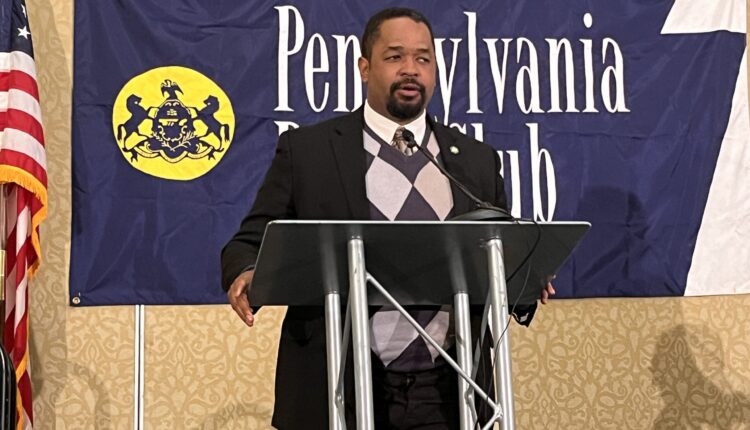 Pa. Dems Chair Sharif Street on Election '22: Three takeaways | Tuesday Morning Coffee
You could probably forgive Pennsylvania Democratic Party Chairperson Sharif Street if he decided to take not only a victory lap, but also popped a rhetorical wheelie, over the party's performance in the Nov. 8 midterm elections.
Pennsylvania Democrats captured both the Governor's Office and Pennsylvania's open U.S. Senate seat; they now hold nine of the state's 17 congressional seats; they recaptured the state House for the first time in 12 years (which gets complicated fast), and added one lawmaker to their ranks in the solidly Republican state Senate.
But for all that, the commonwealth "remains solidly purple," Street, who's also a Democratic state senator from Philadelphia, said during a midday appearance on Monday before the Pennsylvania Press Club.
In wide-ranging remarks, Street broadly held forth on the midterms as well as Senate Democrats' legislative priorities for 2023 — and how much of it they can get over the goal line in the GOP-controlled chamber, and significantly less so on the upcoming Senate impeachment trial of Philadelphia District Attorney Larry Krasner.
Below, three takeaways from Street's appearance.
District Attorney Larry Krasner (Jared Piper/Philadelphia City Council/City & State Pa.).
On the Krasner Impeachment:
Street deferred when the inevitable audience question about the Republican-led impeachment of Krasner, popped up during the Q&A section of his appearance.
The Republican-controlled House voted 107-85 on Nov. 16 to impeach Krasner, a progressive who earned the ire of Republicans (and some Democrats) because they believe him to be insufficiently tough on crime.
The vote sent the impeachment articles to the majority GOP Senate for a trial. Street, like other senators, will act much the same as a juror in that proceeding.The last person successfully to be convicted by the Senate was former state Supreme Court Justice Rolf Larsen more than quarter-century ago.
The Democratic lawmaker did offer some hint of his feelings when he was asked a question about rising crime and declining arrests in the state's largest city.
"The district attorney only prosecutes after arrests," he said. "He can't hire more cops."
Speaking to reporters after his appearance, Street offered little in the way of timing or logistics for the trial.
"It's evolving. We've been advised to just really stay away from it because it really is an evolving process," Street said. "What I can say is, we haven't done anything like this in quite a while. And so … working through the logistics has been challenging for Senate staff. And then remember … the Senate didn't ask for this"
It's expected that the Senate will return for two days before this year's legislative session ends on Nov. 30 to deal with procedural matters related to the trial. But it's not clear how things will proceed from there.
Democratic U.S. Senate nominee John Fetterman (L) and Democratic gubernatorial nominee Josh Shapiro (R)
Campaign file photos
On running — and governing — from the middle.
Reflecting on wins by both Democratic Gov.-elect Josh Shapiro and U.S. Sen.-elect John Fetterman, Street said both ran, and won, from the middle, with both men out-polling President Joe Biden in the counties that Biden won two years ago.
"Pennsylvanians are turned off by partisanship," Street said, pointing to big wins by former Republican Gov. Tom Ridge, whom no one would mistake for a progressive, but who nonetheless ran a pragmatic campaign in his electoral wins in 1994 and 1998.
"Josh Shapiro struck a moderate tone that people rallied around," he said. " … We held ourselves out as the grown-ups in the room." which attracted Republicans and independents who were put off by Republican nominee Doug Mastriano's hardline extremism.
"If there were a different brand of Republican [on the ballot], there would have been a significant shift," Street allowed. "But Republicans did the right thing and rejected extremism. They understood that the person who gets the most votes wins, and that we don't hate each other."
And while national Republicans tried to paint Fetterman as both a left-wing extremist and soft on crime, the current lieutenant governor's efforts to connect with voters in Trump country were still an important lesson in campaigning and resonated with voters in suburban Pittsburgh.
"The Fetterman Formula — we should be looking at that as something he was doing right," Street said.
Pennsylvania Senate Chambers. Source: WikiMedia Commons
On life in the Legislature in 2023:
Democrats' narrow majority in the state House, coupled with a returning Republican majority in the state Senate is a reminder that "we still have divided government," Street said.
Street said he believes incoming Senate President Pro Tempore Kim Ward, R-Westmoreland, and Majority Leader Joe Pittman, R-Indiana, are pragmatic and fair.
He said he's "cautiously optimistic" that Democrats will be able to work with the upper chamber's new leadership team. But to get bills to the floor, Democrats can't move too far to the left because Pittman's office controls the Senate's voting calendar.
"We need to be more pragmatic because Joe will call up votes and he's a pragmatic guy," he said.
Asked to tick off the Dems' legislative priorities for the new session, Street offered a broad list that included "protecting the right to vote, creating jobs, keeping people safe, and protecting the environment."
A noted proponent of legalized recreational cannabis, Street said he's still hopeful he can get a bill through the chamber, even in the face of resistance from some Republicans.
"It doesn't have to be our top priority to get it done," he said.


Originally published at www.penncapital-star.com,by John L. Micek