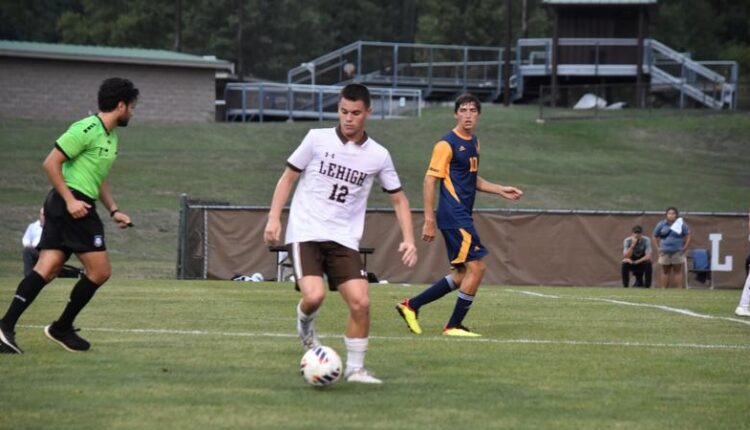 Kuldanek named Rookie of the Week; Lehigh visits West Virginia on Tuesday
story links
BETHLEHEM, Pa. – After scoring the game-winning goal against Lafayette, first-year Ryan Kuldanek was named Patriot League Rookie of the Week, the league announced Monday.
This is Lehigh's first Rookie of the Week award of the year and the first time bringing home the honor since sophomore Yoni Aidlberg won Rookie of the Week after scoring the insurance goal against the Leopards last year.
Kuldanek scored in the 88th minute on his only shot of the game off of a Euan Forrest assist. This was Kuldanek's first collegiate goal.
The Mountain Hawks will travel to West Virginia on Tuesday for a 7 pm battle against the Mountaineers. Lehigh comes into the match with an overall record of 3-5-2 and a league record of 2-2-1. West Virginia is 3-6-2, and 1-1-2 in Big 12 play.
Lehigh and West Virginia only played each other once before, which was last year when they tied 1-1 after two overtimes at the Ulrich Sports Complex.
The Mountaineers scored in the first minute last year, but Lehigh was able to battle back and hold them scoreless for the rest of the game. Josh Luchini scored the only goal for Lehigh.
Ryan Crooks, Markus Caldeira, Dyon Dromers, and Luke McCormick all lead West Virginia with two goals.
Jack Sarkos leads the way for Lehigh, notching seven goals and one assist.
Following Tuesday's game, the Mountain Hawks will host Navy Saturday at 5 pm, which will also be Senior Day. Navy is 4-3-4 overall and 2-1-2 in league play.
Like Lehigh Men's Soccer on Facebook, follow on Twitter and Instagram for continued updates on the Mountain Hawks.