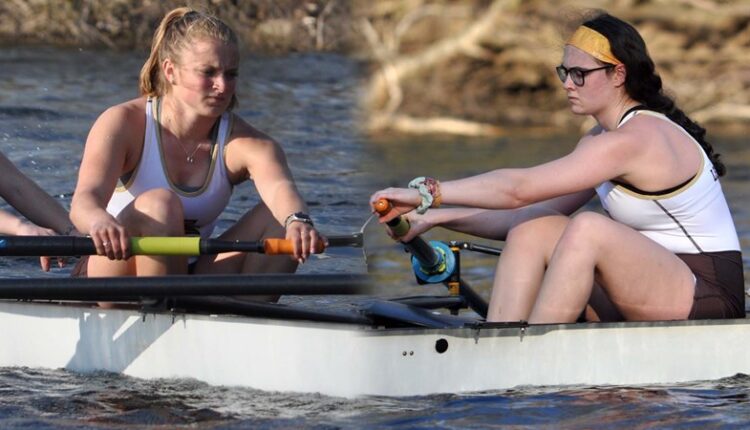 Campbell and Eliseo Named All-Patriot League
Story links
Complete publication of the Patriot League
BETHLEHEM, PA. – After leading Lehigh's Varsity Eight to its best-ever result in the Patriot League Championship, Juniors Honora Campbell and Gabrielle Eliseo have been named to the All-Patriot League, as announced by the league on Friday. Campbell was named to the first team while Eliseo received the second team award. The Mountain Hawks' Varsity Eight finished fourth in the championship last Friday, which is good for their best result since the Patriot League expanded beyond five teams. The only time Lehigh's Varsity Eight finished fourth was when there were only five teams.
"Honora is an amazing student athlete for our program," said Lehigh's head coach Brian Conley. "Honora is extremely competitive and our fastest athlete. Honora is the first to bring the fun to the boathouse, and a lot of the fun she brings to the boat is pure speed because driving fast is fun."
Campbell was in the stroke seat in Lehigh's Varsity Eight at the Patriot League Championship (Campbell was also in the three seats in early spring). Eliseo sat in the six seats all spring. Lehigh finished the championship less than three seconds behind third place. The Mountain Hawks were closer to first place (less than 12 seconds) than fourth (just under 28 seconds). At the start of the season, Lehigh's Varsity Eight won the Patriot League Boat of the Week twice – the first two-time winner in program history. The first accolade came after Lehigh's victory over Loyola in a doubles in which the Mountain Hawks never left the greyhounds by nearly a minute. The second award came after beating Colgate by 25 seconds in the morning heat, then Marist by more than 16 seconds in the afternoon grand finale.
"Gabrielle applauds the process of becoming one of the best," said Conley. "She's the second fastest rower on the team. Gabrielle is a self-motivated athlete grinder and it's dangerous to compete against these athletes because they don't give up."
As @LehighRowing keeps getting stronger, it has received well-deserved recognition. Congratulations to Honora and Gabrielle who were named to the All-Patriot League on Friday!
Story: https://t.co/eu4Dpj0FJW pic.twitter.com/XBZn0rMrN8
– Lehigh Sports (@LehighSports) May 21, 2021

As Lehigh continues rowing Facebook and keep following Twitter and Instagram for more updates on the Mountain Hawks.