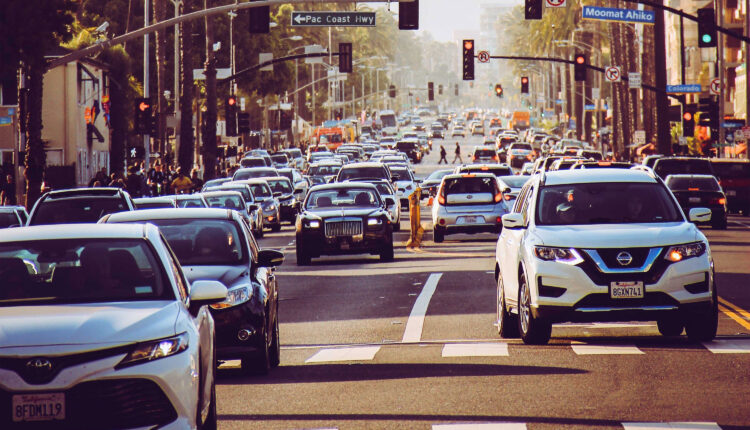 Vision Zero Resolution to Eliminate Traffic Deaths Gaining More Traction in US
As the number of traffic deaths increase across the country, a Vision Zero resolution has been introduced into Congress. Vision Zero is a strategy to eliminate all traffic-related deaths and severe injuries, while increasing safety, health and mobility.
The resolution looks into the epidemic of traffic fatalities and calls for the US Department of Transportation to focus on traffic safety to reduce roadway deaths to zero by 2050.
In May, Senator Richard Blumenthal (D-Conn.) and Representative Jan Schakowsky (D-Ill.) introduced the bicameral resolution with the co-sponsorship of five senators and five representatives — all Democrats — and endorsements from the National Safety Council, Consumer Reports, Vision Zero Network and Families for Safe Streets.
"Our country is in the midst of an auto safety crisis, one that we have the power to stop in its tracks," Schakowsky said."Tens of thousands of lives are lost on our roadways each year. Enough is enough."
"We must commit to ending these unnecessary deaths and injuries by 2050. This resolution makes that commitment and calls on the Department of Transportation to use the tools at its disposal to prioritize transportation safety."
Currently, the resolution remains in the introduction phase where it is growing support. There are now 20 official supporters of the resolution in Congress – out of 535 members.
Between 2010 and 2019 the number of pedestrian fatalities increased by 44 percent in the US, cyclist fatalities rose by 36 percent.
According to the National Traffic and Safety Administration, this is due in part to dangerous road designs and the increased popularity of larger vehicles like SUVs and pickups.
The five-page resolution is non-binding but advocates believe that it can serve as an important first step towards more solid policy changes.
On a national scale, the Vision Zero Network collaborates and connects advocate groups around the country with the shared goal of "eliminating all traffic fatalities and severe injuries while increasing safe, healthy, equitable mobility for all."
Vision Zero focuses on how people naturally behave — accidents will happen. So while they may never prevent all crashes, there is a way to prevent many of the most serious and fatal crashes. The airline industry and the railroads already have zero-tolerance policies.
"No other preventable cause of death is so overlooked and implicitly condoned as the tens of thousands of preventable traffic fatalities each year in this country. This must — and can — change," said Leah Shahum, director of Vision Zero Network in an interview.
"We are encouraged that this new resolution to set and advance the goal of eliminating traffic deaths by 2050 is a sign of stepped-up federal leadership. Now we need to put proven strategies to work, including designing roadways for safety instead of speed and investing funding in safety improvements, especially for those walking and biking and those in traditionally underserved communities."
The Vision Zero Network determined that the more often people choose public transportation, walking or biking, the safer it is for the population and the overall health of a city.
At the city level, initiatives like Vision Zero Philadelphia focused their attention on making the system of transportation safer. The city accounted for speeds, streets, people and vehicles to put said systems in place and work to prevent traffic-related deaths.
Every year Philadelphia residents are subject to approximately 10,000 traffic crashes that take the lives of roughly 85 people and severely injuring 250 others.
According to the city's transportation research, speed is the number one contributing factor in determining if a crash is fatal. Speed ​​is especially lethal for people walking or biking — pedestrians rarely survive accidents when speeds are higher than 20 miles per hour.
Approximately 36 percent of Philadelphia's traffic-related deaths are a result of aggressive driving, which includes speeding and failure to yield.
At a state level, Hexagon, a global leader in digital reality solutions, combining sensors, software and autonomous technologies, developed a system for the Pennsylvania Turnpike Commission which decreased highway accident response times.
"If we accept that humans make mistakes, that we're not infallible, you can start to design around that motion," said Bruce Chaplin, vice president of transportation solutions at Hexagon.
"If we just accept that one, they're preventable and two, humans make mistakes and if we can design to avoid mistakes or mitigate the impact of those mistakes — it's helpful."
To improve the accuracy and efficiency of its incident response capabilities, the Pennsylvania Turnpike Commission was in need of an incident management and dispatch solution that could replace its outdated computer-aided dispatch software and make dispatching, response and reporting simpler and faster.
With Hexagon's solution, emergency dispatchers had more accurate locations on reported incidents, allowing them to identify and dispatch the nearest unit. The technology also gives operators the ability to quickly identify nearby cameras and use the imagery to help increase situational awareness and reduce response times.
"We look at the state of safety on North America's roads — 38,000 people lose their lives in car crashes on an annual basis, 20 percent of drivers face injuries in serious crashes," Chaplin said.
"There's estimates of the economic impact of traffic accidents up to $240 billion, and although we look at a lot of progress being made over the years in vehicle safety and technology and everything else, the fact is that we're kind of a 30 year high when we look at bicycle pedestrian deaths on the roadway."
The Vision Zero Network, and other pedestrian advocacy groups recognize that achieving the goal of safe mobility for all is not just critically important but also distinctly challenging.
There are cities across the nation who are working to enact a Vision Zero future. The Vision Zero Network fosters collaboration between these communities to accelerate progress toward eliminating traffic deaths and serious injuries.
Cities that have adopted Vision Zero so far:
Anchorage, Alaska
Tempe, Ariz.
Alameda, Calif.
Berkeley, Calif.
Fremont, Calif.
La Mesa, Calif.
Los Angeles
Monterey, Calif.
Sacramento, Calif.
Santa Barbara, Calif.
san francisco
San Jose, Calif.
San Luis Obispo, Calif.
Watsonville, Calif.
Boulder, Colo.
Denver
Orlando, Fla.
Tampa, Fla.
West Palm Beach, Fla.
Macon, Ga.
Chicago, Ill.
Boston
Cambridge, Mass.
Somerville, Mass.
Minneapolis
Columbia, Mo.
Alburquerque, N.M
Jersey City, NJ
NYC
Charlotte, NC
Durham, NC
Eugene, Ore.
Portland, Ore.
Bethlehem, Penn.
Harrisburg, Penn.
Philadelphia
Alexandria, Va.
Richmond, Va.
Austin, Texas
Houston
Laredo, Texas
San Antonio
Bellevue, Wash.
Seattle
Washington, D.C
Companies within the automotive industry are also committed to lessening traffic deaths. The Volvo Group is committed to a safety vision that details that "no one should be killed or seriously injured in a new Volvo".
The Swedish brand has highlighted three main areas to work on: speed, intoxication and distraction. To solve the speed, the company has limited the top speed of its cars to 110 miles per hour from 2020 and is developing technology to automatically limit speeds around schools and hospitals.
In the near future, intoxication and distraction will be monitored via in-car cameras that watch over the driver. If the driver does not respond to warning signals the car will slow down and park.