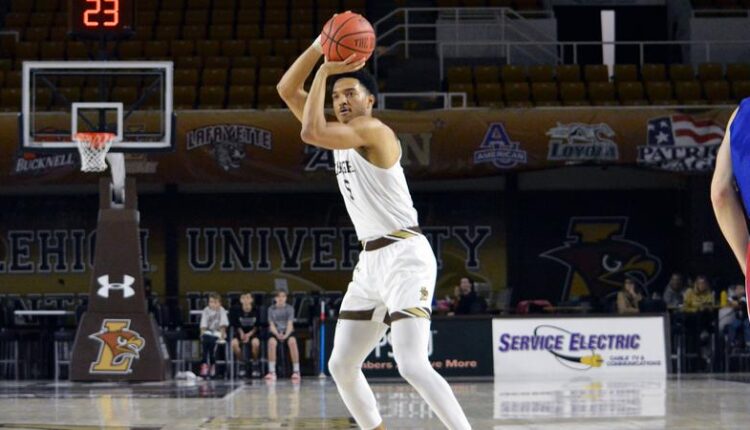 Taylor Eclipses 1,000 Points as Mountain Hawks Take Down American
next game:
at Loyola
1/16/2023 | 7:00 PM
Jan 16 (Mon) / 7:00 PM
at Loyola
History
BETHLEHEM, Pa. – The Lehigh men's basketball squad won its fourth consecutive Patriot League game with a 78-62 victory over American on Saturday afternoon at Stabler Arena.
The Mountain Hawks are now 9-8 overall and improve their Patriot League record to 4-2 while American drops its second straight game to fall to 12-5 on the year and also has a 4-2 record in league play. This Lehigh victory marks its third consecutive win over the Eagles and the Mountain Hawks are 21-8 against American at home.
Both squads were close in the first five minutes of the game and tied at 6-6 when Lehigh scored seven-straight points to take a 13-6 lead. With 14:10 to play in the half, senior Evan Taylor drained a three-pointer to surpass 1,000 career points and became the 39th Mountain Hawk in program history to achieve this feat. American closed the gap and tied the game at 13-13. The Eagles and Mountain Hawks stayed within three points of each other until the end of the half, when Lehigh held a three-point edge, 31-28 heading into the locker room.
TWS AND ONE!! Whitney-Sidney absorbs the contact and converts the basket for the 3️⃣rd time this half! #GoLehigh
Watch on @PatriotLeagueTV and @ESPN – https://t.co/1rkyqzEEjV pic.twitter.com/I4rBZq6zlz
— Lehigh M. Basketball (@LehighMBB) January 14, 2023

The second half started with a Lehigh basket and saw the Mountain Hawks go ahead by double-digits, 47-34, on a three-pointer by senior Jakob Alamudun, followed up by another trey from sophomore Keith Higgins Jr with 14:42 to play . The Eagles fought back and got within six points, 62-56, at the five-minute mark when the Brown and White went on an 11-0 run to take their largest lead of the night at 17 points, 73-56. Lehigh would hold on to his double-digit advantage for the remainder of the game and take down American, 78-62, for his fourth-straight win.
Sophomore Keith Higgins Jr. was one of four Mountain Hawks to reach double-digits in scoring, contributing 18 points, two assists, a steal and one rebound. He reached the 500-point milestone this afternoon and was 5-of-9 from the field, all five shots were made three-pointers, and was a perfect 3-for-3 at the foul line. Classmate Tyler Whitney-Sidney followed suit with 17 points on 6-for-12 from the floor and was 5-for-5 at the charity stripe. He also added four boards and three assists.
TWS FLUSH!! @twhitneysidney gets behind the defense and throws it down to extend Lehigh's lead! #GoLehigh
Watch on @PatriotLeagueTV and @ESPNhttps://t.co/1rkyqzEEjV pic.twitter.com/75gL2ziice
— Lehigh M. Basketball (@LehighMBB) January 14, 2023

Taylor totaled 15 points, including three three-pointers, a team-high eight rebounds, one assist, one blocked shot and one assist. Rounding out the Brown and White in double-figures was junior Dominic Parolin, who ended the game with 10 points, going 5-for-7 from the floor to go with four rebounds.
Six other Mountain Hawks recorded points including junior Jalin Sinclair with six points and his team-leading seven assists, one blocked shot and a steal. Junior JT Tan and Alamudun each contributed four points each, with Tan bringing down three rebounds while Alamudun drained a three-pointer, two rebounds, and a blocked shot. Senior Reed Fenton also reached the 500-point milestone with his two points this afternoon, to go with two rebounds and a steal.
ALAMUDUN TREY!! Alamudun puts Lehigh back in front by double-digits after knocking down a 3-pointer! #GoLehigh
Watch on 📺: @PatriotLeagueTV and @ESPNhttps://t.co/1rkyqzEEjV pic.twitter.com/pILF4mHRB2
— Lehigh M. Basketball (@LehighMBB) January 14, 2023

American also had four players score at least 10 points, led by Elijah Stephens, who tossed in 14 points, three rebounds, an assist and one steal. Recording a double-double was Johnny O'Neil with 12 points and 10 boards while also blocking two shots, swiping a steal and grabbing a rebound. Matt Rogers also scored 12 points and led the Eagles with four assists and five rebounds while Geoff Sprouse ended the afternoon with 10 points, an assist and one board.
The Brown and White shot 49.1 percent (27-for-55) from the floor while shooting 45 percent (9-for-20) from long distance while American shot 36.4 percent (20-for-55) and 37.5 percent (6-for -16) from behind the three-point line.
Lehigh committed nine turnovers that American turned into just seven points while the Eagles were forced into 15 miscues that the Mountain Hawks turned into 20 points. The Brown and White were out-rebounded 39-32 and narrowly outscored the Eagles in points in the paint, 30-28.
The Mountain Hawks are back in action on Monday, Jan. 16 when Lehigh takes on Loyola (Md.) on the road at Reitz Arena. Tip-off is set for 7 p.m. and will be broadcast on CBS Sports Network.
Like Lehigh Men's Basketball on Facebookfollow on Twitter other Instagram for exclusive content, team updates and more. Single-game tickets are on sale HERE.