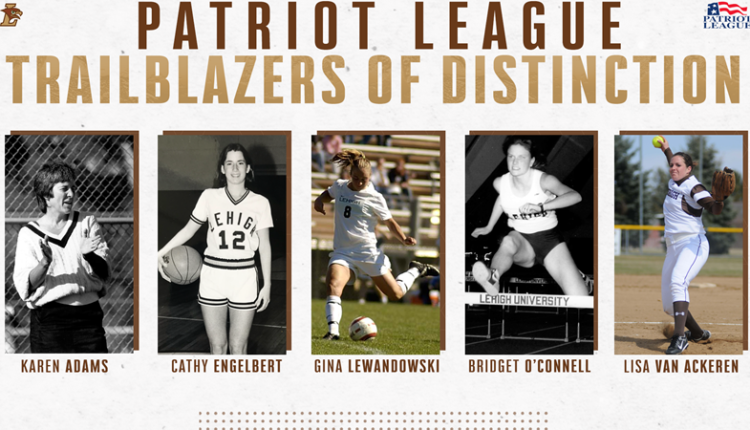 Patriot League Recognizes Trailblazers of Distinction During the 50th Anniversary of Title IX
story links
BETHLEHEM, Pa. – The Patriot League in conjunction with its 10 full-member institutions has announced its Trailblazers of Distinction to recognize the accomplishments of some of their most impactful women leaders during the Title IX era.
The League worked closely with staff from each of its institutions to identify and honor individual women and memorable teams for contributions to their respective athletics departments, campuses and society at large. The Trailblazers of Distinction were selected in competition with the Patriot League's yearlong celebration of the 50th Anniversary of Title IX.
Each Trailblazer of Distinction represents the Patriot League's vision for their achievement of athletic potential in addition to values ​​of integrity, character and personal development. Collectively, the women and teams recognized have served as shining examples of the importance of the journey toward inclusion and gender equity.
When the Patriot League became an all-sport conference during the 1990-91 academic year, it initially offered 22 sports; 11 men's and 11 women's. The ability to offer an equal complement of sports was in part due to the contributions made by some of the Trailblazers of Distinction, whose collegiate athletics careers concluded before the formation of the League. The paths they paved afforded future generations more opportunities to compete is why it is important to recognize their accomplishments alongside those that directly impacted the Patriot League.
Lehigh
Karen Adams-Coach and Administrator
Adams was head volleyball coach (1980-84, 2006) and head women's tennis coach (1980-1998), in addition to serving as an administrator at Lehigh (1985-2016). The University named its Graduating Female Athlete Award, established in 1980, in honor of Adams in 2016 following her retirement. The award recognizes a female student-athlete that compiled the most distinctive athletic record during her time at Lehigh.
Cathy Engelbert—Women's Basketball, Women's Lacrosse '86
In 2019, Engelbert was named the first Commissioner of the WNBA, following four years as CEO at Deloitte, where she had become the first female US CEO of a Big Four firm. At Lehigh, the Collingswood, NJ native went from walk-on to team captain on both the women's basketball and women's lacrosse teams.
Gina Lewandowski – Women's Soccer '07
Lewandowski's professional soccer career allowed her to play internationally and domestically for more than 15 seasons, concluding in 2022 after a three-year stint with the NWSL's NJ/NY Gotham FC. The two-time Patriot League Women's Soccer Offensive Player of the Year received a call-up and earned one cap with the US Women's National Soccer Team in 2012.
Bridget O'Connell – Cross Country, Track and Field '95
O'Connell graduated from Lehigh with a bachelor's degree in English and anthropology in 1995, then obtained her master's degree in educational leadership in 1997. She then earned her Ph.D. in educational leadership in 2007. O'Connell, the 2022 Pennsylvania Superintendent of the Year, is currently the Superintendent of Palisades School District in Upper Bucks County in Pennsylvania.
Lisa (Sweeney) Van Ackeren – Softball '09
Van Ackeren, the only four-time Patriot League Softball Pitcher of the Year, is in her 11th year as Princeton's head softball coach. The 2008 academic all-America was named Patriot League Tournament MVP three times and owns most Patriot League pitching records, including wins (104), shutouts (31), strikeouts (928) and no-hitters (4). In her first season at the helm for Princeton, the three-time Ivy League Coach of the Year became the winningest first-year coach in the program' history with a 27-19 record.