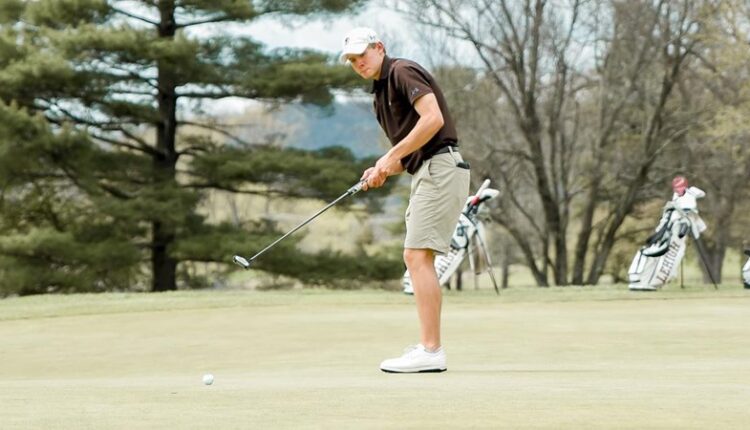 Opening Round 67 Has Hurly in Lead at Wildcat Invitational
story links
VILLANOVA, Pa. – Junior David Hurly shot three under par 67 to take the 18-hole individual lead as Villanova's Wildcat Invitational got underway Monday at Radnor Valley Country Club. Hurly leads an 80-player field heading into the tournament's final day.
As a team, Lehigh shot 295 Monday as the Mountain Hawks sit in a tie for eighth place in a 15-team field.
Hurly started strong right off the bat with a birdie on the first hole. He added birdies on No. 6 and no. 9 as part of a 33 on the front side and also birdied No. 12 on the back nine. The only trouble to Hurly's round was a bogey on the second hole. Hurly leads Marquette's Hunter Eichhorn and Delaware's Sahasawat Ariyachatvakin by one stroke entering the final round.
Behind Hurly, junior Daniel Song and sophomore Edmund Broderick both shot 75 on Monday and are tied for 42nd place. Both players made one birdie Monday, with Song's coming on 13 and Broderick making his on 10.
First-year Aidan Oehrle and junior Sam Barton shot 78 and are tied for 66th place. Oehrle birded two of his first five holes Monday, while Barton carded a birdie on No. 7.
Marquette shot one over par 281 and leads the team standing by four strokes over St. John's. LIU sits in third place at 291.
The Wildcat Invitational concludes Tuesday with the final 18 holes from Radnor Valley Country Club. Lehigh will play with Villanova, Rider individuals and beginning at 8:50 am