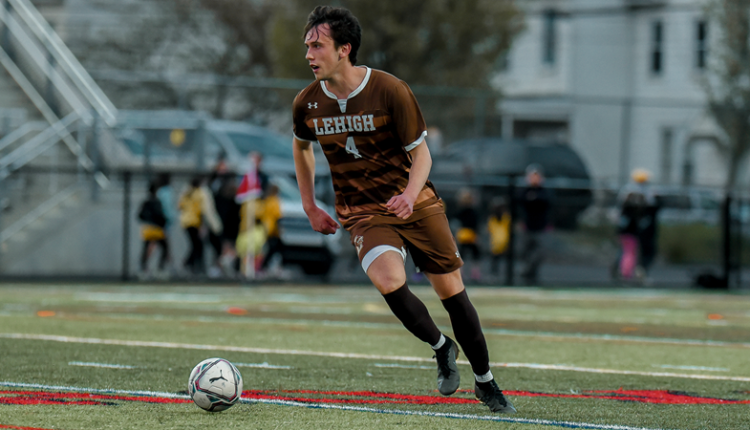 Mountain Hawks Square Off With UMBC Monday Evening
story links
Watch Live on AmericaEast.TV
BETHLEHEM, Pa. – Attempting to bounce back from a season-opening loss at Temple on Thursday night, the Lehigh men's soccer team heads to UMBC in Baltimore Monday night with a 7:30 pm kickoff. The Mountain Hawks (0-1) visit the Retrievers (1-0), looking for a better result than at home last season when they fell, 3-0 on Sep. 21, 2021.
Lehigh out-shot Temple, 13-5 on Thursday but a seventh minute strike from Yann Kouemi gave the Owls al they needed to come out with the shutout victory.
Sophomore Perry Kingson tallied a team-high three shots, including one on goal, while first-years Jarman Reilly and Gennaro Mazzella each chipped in a pair of shot attempts. Sophomore goalkeeper Ryan Gross made two saves, but gave up the early game-winner to earn the loss.
The Mountain Hawks won the corner kick battle, out-pacing Temple 8-0, while conceding 13 fouls to the Owls' 17.
There was a total of six bookings between the two sides including two for first-year Sam Davis, who was sent off in the 84th minute.
UMBC recorded its most goals in a single game in 18 years with an 8-2 victory over Fairfield Friday evening.
Spencer Hanks netted a hat trick ('11, '12, '65) with a brace for Ismailcan Usta ('83, '88), while Jago Lott ('20), Taylor Calheira ('60P) and Ryan Becher ('63 ) each found the back of the net with goals.
The Retrievers conceded a pair of Stag goals in the 35th and 59th minutes, but out-shot them 18-11 with 11 shots on goal in the contest.
UMBC keeper Quantrell Jones made two saves to get the win.
UMBC leads the all-time series over Lehigh, 3-2. The Mountain Hawks' last win on the road against the Retrievers came on Oct. 26, 2005, a 1-0 victory.
Monday's game will be streamed live on America East.TV at 7 pm
Like Lehigh Men's Soccer on Facebook, follow on Twitter other Instagram for continued updates on the Mountain Hawks.