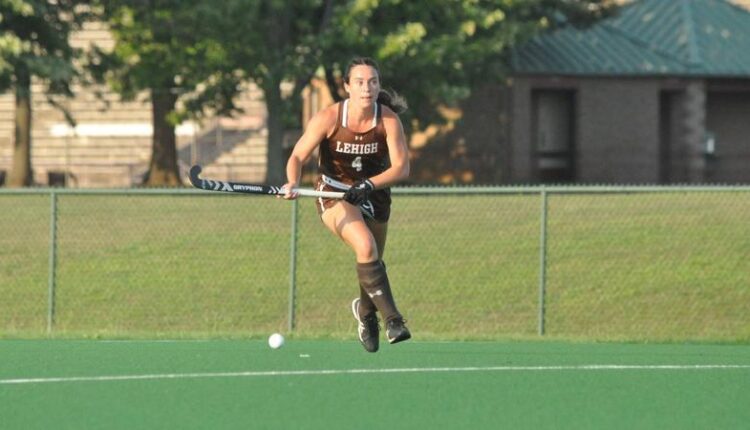 Mountain Hawks Head To Boston For PL Opener Saturday, Will Face SHU Sunday
story links
Watch Boston U. Game

Live Stats (Boston U.)
BETHLEHEM, Pa. – The field hockey team heads north this weekend to open Patriot League play against Boston University. The Mountain Hawks will face the Terriers at 1 pm on Saturday. On Sunday, Lehigh will travel to New Haven, Conn., to play Sacred Heart with a 1 pm start at Yale University's Johnson Field. The Boston University game will be played in Allston, Mass., on Harvard's field and will be streamed on ESPN+.
Last weekend, the Mountain Hawks (2-4) started off the weekend strong after securing a 3-2 win against La Salle. Junior Abbie Brown picked up her first two goals of the season as she gave Lehigh the lead against the Explorers. Freshman Maddie Kandra tallied her first career goal, scoring what eventually became the game-winner in the fourth quarter.
On Sunday, Lehigh fell in overtime 4-3 to Wagner on a rain-soaked field. Brown added another goal and assist to her weekend tally to keep the Mountain Hawks in the running to beat the Seahawks. Kandra also finished off a strong weekend campaign with her second goal in as many games
Although the Mountain Hawks fell short on Sunday, their efforts did not go unnoticed. Kandra's breakout performance last weekend earned her the Patriot League Rookie of the Week award. Brown was also awarded an honorable mention recognition as she led the team with seven points last weekend.
The Terriers currently lead the all-time series against the Mountain Hawks 7-2. Lehigh previously had a six game losing streak against Boston University but were able to turn it around with an overtime win in 2019. The Mountain Hawks won last year's meeting 2-1 in Bethlehem. Like Lehigh, the Terriers are also 2-4 on their season, so Saturday's matchup is a pivotal game for both teams. BU is looking to bounce back from consecutive losses to UMass Lowell and Vermont.
Sacred Heart (0-5) has had a much slower start to its season, including a 4-2 loss to Dartmouth last Sunday. The Pioneers hold a 9-4 lead in the series against Lehigh, but the Mountain Hawks posted a 4-0 victory last season.
The Mountain Hawks will return home to Ulrich Field next Saturday (Sept 24) to host Merrimack and then will play Long Island University the following day (Sept 25).
Like Lehigh field hockey on Facebook, follow on Twitter and Instagram for continued updates on the Mountain Hawks.
Story by Mariangela Ruggeri '23