Memphis Hustle hold local tryouts
Photo: Players scrimmage during Sunday morning's local tryouts at Christian Brothers University in Memphis. (Bob Bakken/desotocountynews.com)
It's a long shot, likely much longer than a deep three-pointer from the corner, but for 79 players from the Mid-South region, Sunday morning at Christian Brothers University's Canale Arena in Memphis was their shot at getting closer to being in the National Basketball Association.
The Memphis Hustle's fourth-annual local tryouts are an early step in the process of putting a roster together for the NBA G League affiliate of the Memphis Grizzlies. The 79 players on hand went through drills, showed off their skills, and were part of scrimmages under the watching eye of Hustle head coach Jason March, his coaching staff, and representatives with the Grizzlies.
It is a long shot for these basketball players, but a shot nonetheless and it's all about opportunity.
Kahron Ross fires a pass to a teammate during a scrimmage Sunday morning as part of the Hustle's local tryouts. (Bob Bakken/desotocountynews.com)
Three players made the Hustle's training camp roster last season and March said that should be the goal for the guys who appeared Sunday morning, to be invited to training camp in October.
"With our roster going into this season, we don't have a lot of roster spots because it's pretty much intact, but there are a few open spots," March said. "Training camp spots are valuable so that would be the goal for these guys, getting into training camp."
For instance, Darnell Cowart, who played 14 games with the Hustle last season, was at one time a local tryout player. Three players from local tryouts made the training camp roster last October.
March said this is their chance to be seen, and for them, hopefully be noticed.
"A lot of guys have athleticism, but we want to see if they can retain the few plays that we throw at them and see if they can execute some stuff in half-court sets," March said. "The most important thing is the opportunity to be seen and for our scouts and organization to check off some names and see what some guys have here, locally."
Players hear about the Hustle tryouts through social media and the news media around the region. They may have just graduated college, but others may have basketball experience elsewhere.
"You see guys who have played overseas or who have played at a high level, so those guys kind of catch your eye," March said. "You definitely want to give everyone an opportunity."
Among the players who were being looked at Sunday were Jaylen Fisher and Kahron Ross. Both have had international playing experience and both are from the Mid-South.
Fisher, who played at Memphis Bolton High School and at Texas Christian, most recently was with the Fort Wayne Mad Ants of the G League, where he played in just one game.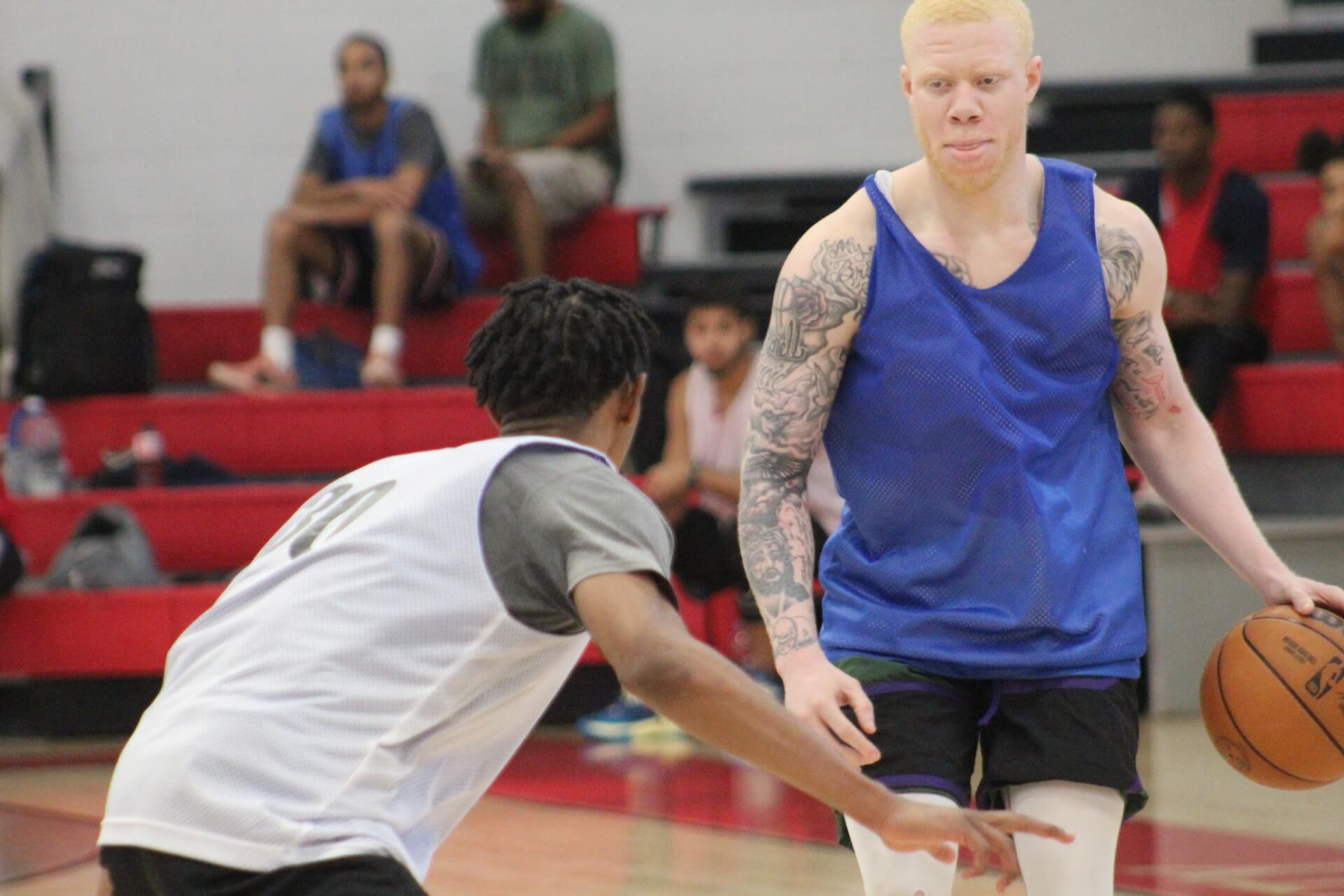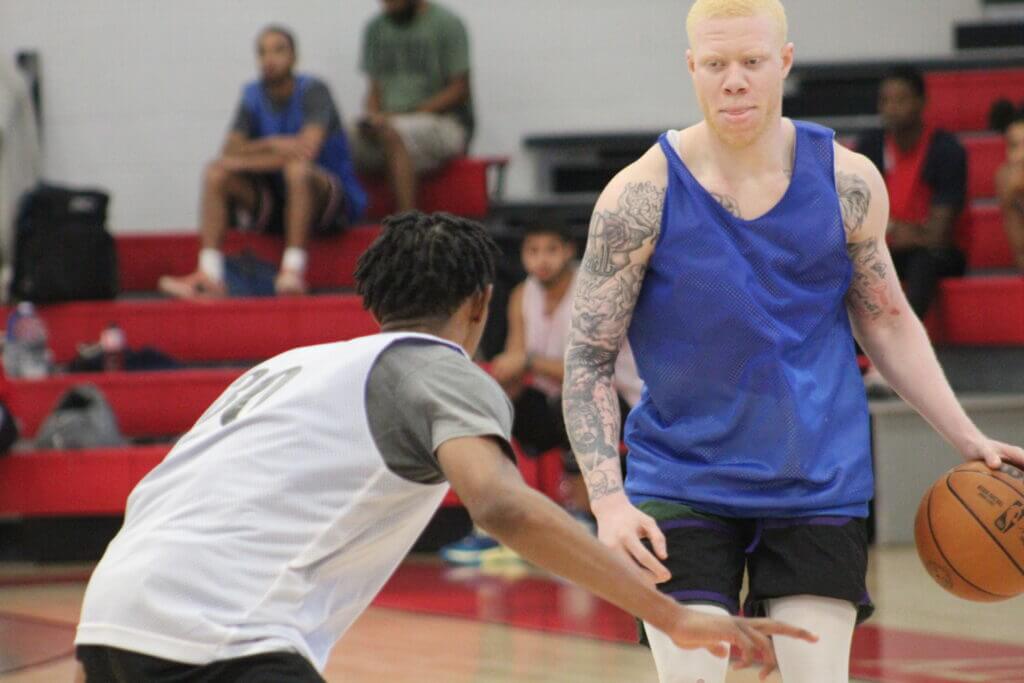 Jaylen Fisher (in blue), who prepped at Memphis Bolton and collegiately at TCU, was among nearly 80 players at Sunday's local tryouts. (Bob Bakken/desotocountynews.com)
His TCU career was cut short by a knee injury and he left the program in 2019. Fisher has played one season in Bulgaria and wants his Hustle tryout to be a chance to get back into pro basketball back home.
A Jonesboro, Ark. native, Ross last season was in Finland after a college career at Lehigh University of the Patriot League. At Lehigh, the point guard averaged 11 points and 5.4 assists a game. Last season with BC Nokia of the Finnish Korisliiga pro league, Ross was second in assists at 6.5 per game and scored 36 points in one contest last year. Ross also has international experience in Germany and the United Kingdom but is back in the United States looking to catch on at the G League level.
"We don't make any promises out of this but it gets your name on our board and you hope you'll get a call back and a training camp invite would be the goal for you, for sure," said March.
The phone call these players are hoping to get soon means they'll be on the Oct. 24 training camp roster with the hope it may carry them on to the opening night roster on Nov. 4.