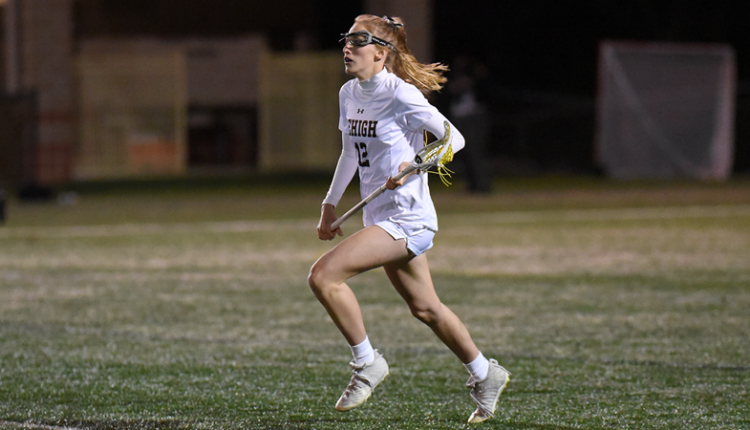 Lehigh Wraps Up Regular Season Thursday With Important Game at Colgate
story links
BETHLEHEM, Pa. – Winners of five straight Patriot League regular season games for the first time since 2018, the Lehigh women's lacrosse team will vie for six in a row on Thursday in the regular season finale at Colgate. Opening draw is 4 pm on ESPN+. It's a big game for both the Mountain Hawks and Raiders, as the winner will earn the No. 4 seed in the Patriot League Tournament (and subsequent home game in the quarterfinals).
Lehigh recently won three home games in six days, topping Lafayette on Apr. 20 (16-6), Holy Cross on Apr. 23 (12-4) and American on Apr. 25 (11-9). It's been a busy stretch for the Mountain Hawks, as Thursday will be Lehigh's fifth game (more than half its league schedule) in less than two weeks.
Against American, neither team led by more than one goal until the Eagles scored the first two goals of the third quarter to take a 6-4 lead. The Mountain Hawks went 17:01 without a goal between the second and third quarters, but their offense responded in a big way. Lehigh wound up scoring seven times over the game's final 15:31. Trailing 7-6 in the fourth, the Mountain Hawks reeled off five straight goals through the middle of the stanza to open an 11-7 lead. American scored twice in the final minute, but it wasn't nearly enough.
Junior Emma Eberhardt led the offense with four goals and an assist, good for her fourth straight hat trick. Fellow attackers Gabby Schneider and Katia Carnevale each scored twice as well, with Schneider adding an assist. Junior Cassie Marte contributed all over the field, recording two goals, two caused turnovers, a groundball and draw control. Eberhardt and senior Maggie Kelly each tallied seven draw controls (which was a career high for Kelly). Lehigh finished with a 15-9 edge in that category, including 14-5 over the final three quarters. The draw margin of +6 was a season best for the Mountain Hawks.
Senior defenders Jenna Garden and Emma McGillis each caused a turnover to give them 48 and 46 in their careers, respectively, as they're each quickly approaching 50. Sophomore Hayley Hunt made 11 saves – her third straight game and eighth this season at 50 percent or higher.
If Lehigh wins on Thursday, it will host a Patriot League Quarterfinal for the fifth time in the last six Patriot League Tournaments. If the Mountain Hawks lose, they will be making a return trip to Colgate. Lehigh and Colgate have not played since the 2019 season.
The Raiders enter Thursday 5-11 overall, 4-4 in Patriot League play. Colgate has won three straight, all by a goal – vs. Lafayette (13-12), Holy Cross (16-15) and at American (16-15). Kyra Lucey leads the team with 38 points via 20 goals and 18 assists. Eliza Soutter owns 35 points (24 goals, 11 assists) while Devon Maillet has 30 (23 goals, seven assists). Cara O'Reilly leads Colgate in draw controls (110) while Margaret Noble has caused 11 turnovers to lead the team. Goalkeeper Kieran Gerow leads the Raiders in groundballs (25). Three different goalkeepers have seen significant time, led by Amelia Cunningham, who owns a 14.44 goals against average and 42.0 save percentage in 361:37.
Colgate leads the all-time series with Lehigh, 26-13, which includes winning eight of the last 10. The teams haven't played since 2019, a 16-4 Raiders' victory. Lehigh won the previous season at home in 2018, 12-6. The Mountain Hawks' other recent victory was a Patriot League Quarterfinal win at home on May 3, 2016 by a 13-6 final. The teams first met in 1981, a 6-5 Lehigh victory. Colgate's first win was the next meeting in 1986, 13-12 in overtime.
Following Thursday's game, the Mountain Hawks will look ahead to the Patriot League Quarterfinals on Sunday.
Like Lehigh Women's Lacrosse on Facebook and follow on Twitter other Instagram for exclusive content, team updates and more.