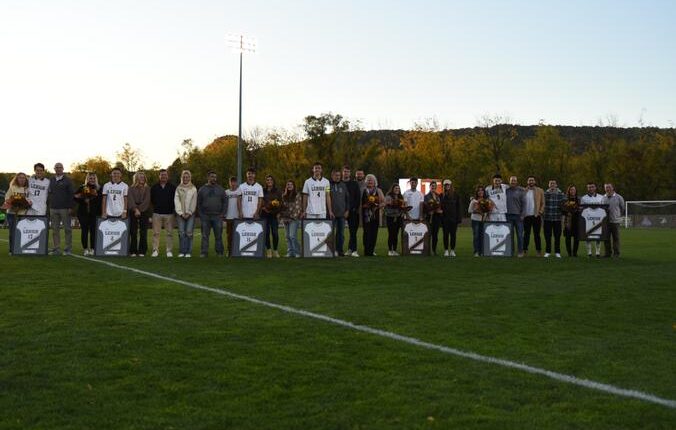 Lehigh ties Navy 2-2 on Senior night
next game:
at Army West Point
10/22/2022 | 7 p.m
october 22 (Sat) / 7 pm
at Army West Point
History
BETHLEHEM, Pa. – The Lehigh men's soccer team continued its undefeated streak at home on Senior Night at the Ulrich Sports Complex, typing Navy 2-2 Saturday night.
The Mountain Hawks are now 3-6-3 (2-2-2 in Patriot League play), while Navy is 4-3-5 (1-1-3 in Patriot League play).
It was Lehigh who got on the board first off of an own goal by Navy. Perry Kingson crossed it into the box, but the Midshipmen knocked it in for the Mountain Hawks.
Lehigh went into the half with a 1-0 lead, but the Midshipmen netted two goals in the half to put them on top.
Senior Jack Sarkos continued his hot streak of scoring this year to give Lehigh a 2-2 tie. He recorded a goal in the 78th minute.
"It was end-to-end for a little bit, and then it opened up not to our liking, and I'm sure not to the Navy's liking," said head coach Dean Koski. "It was exciting when we went up a goal and certainly disappointed that we gave up a restart goal, but I appreciate even going down a goal that our guys fought back."
The Midshipmen had an opportunity at the end to win the game as first-year goalie Tommy Chyzowych was outside the 18-yard box, but first-year defender Sam Davis went into the goal to block the shot to keep the game tied and give the Mountain Hawks a point.
Navy had 21 shots, and Lehigh only had 11 shots. Chyzowych had an outstanding night and finished with nine saves.
Next up, Lehigh will travel to West Point, NY, to face Army, who stands at the top of the Patriot League men's soccer standings with 13 league points, while the Mountain Hawks have nine points.
"We have to get healthy," Koski said. "We've been taking some injuries to some key players, so it's important if we can get them back. We just have to keep doing what we're doing. We are who we are in this stage. We're not going to reinvent the wheel. We know who our starters are, and we know who is going to come off the bench."
Like Lehigh Men's Soccer on Facebook, follow on Twitter and Instagram for continued updates on the Mountain Hawks.