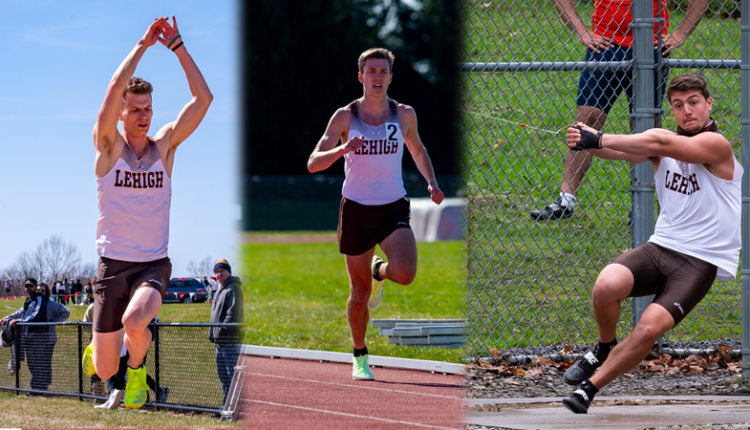 Lehigh in Fifth After Opening Day of PL Championships
story links
Patriot League Championship Schedule

LiveResults
ANNAPOLIS, Md. – The Lehigh men's track and field team finished the first day of the Patriot League Championships in fifth-place. Three Mountain Hawks and the 4×800 relay team all earned points for Lehigh in Annapolis on Friday.
On the track side, Lehigh's distance runners continued to put up solid times. In the first race of the day, graduate student Seth Slavin finished sixth in the 10k with a time of 30:36.52. To end the day, the 4×800 relay team finished fourth with a time of 7:39.02. Juniors Ethan Davis, Joseph Cranley, Brandtson Duffie and first-year Aidan Lynch were all members of the fourth-place relay.
"Seth starts us off in a rainy 10k and runs really tough," said heach coach Matt Utesch. "He made some great moves and covered a bunch of great moves and came in and got us some points early. The 4×800 had a really gutsy race against some really amazing competition. We saw what Navy can do at the Penn Relays last week and only one of the same guys from last week was in the race for us today. We ran right there with them and got in and got some points so that was great too."
In the field, sophomore Achilles Mouzakis and junior Ian Scott both earned points for the Mountain Hawks. Mouzakis finished seventh in the hammer throw on Friday with a new PR of 54.75m and is now fourth all-time in Lehigh history. Scott finished sixth in the long jump with a mark of 6.89m, just shy of a personal record of his own.
"Achilles did something that may be more impressive to his own family and to him that anyone will ever know," said Utesch. "He knocked his brother down on the Top 10 list and that might be better than any Patriot League title he ever wins and I think one of those is in his future.
"Ian once again dropped the crutches, he had a little injury this week but he goes and jumps 6.89m and that's a huge jump," Utesch continued. "I know its not what he wanted but he has a few more fish to fry this weekend with the high jump and triple jump. I'm glad he got out of it healthy and I'm glad he scored some points."
Despite the rainy conditions at Navy, the Mountain Hawks were able to put up solid times during prelims, sending six student-athletes to the finals on Saturday.
In the second race of the day, junior Jacob Martinez competed in the 1500m. Martinez finished tenth with a time of 3:55.34 to secure a spot in the finals at 2:15 pm tomorrow.
Senior Kyle Burke and junior Kerem Ayhan had impressive performances in the 800m to earn a spot in the finals. Burke finished second with a time of 1:51.53 while Ayhan finished eighth with a new personal record of 1:51.49.
Lehigh's sprinters appeared unbothered by the rain as three of them secured spots in the finals tomorrow. In the 400m, senior Harrison Ernst finished seventh with a new PR of 49.39. First-year duo Patrez Thomas and Jack Murphy competed in their first outdoor Patriot League Championships and showed no signs of nerves. The duo finished sixth and eighth, respectively, and will be competing in the finals at 2:30 pm
Fellow first-year Gideon Coprivnicar is competing in his second collegiate decathlon. Coprivnicar is currently in tenth-place with 2994 points. He earned a new personal record in the long jump (5.99m) on Friday.
"The thing that I'm the most impressed with in our team is their resilience," said Utesch. "It's bad weather, we're inside, we had delays and lightning and our kids come out and turn around and get it done."
Day two of competition will begin at 8:45 am with the decathlon's 110m hurdles. Women's shot put will kick off the field events at 9 am while track events will begin at 1:10 pm with the women's steeplechase.
Live results and the full schedule for the meet can be found at the top of the page. Updates, highlights and interviews with coaches and student-athletes will be available on @PatriotLeagueTV on Twitter and Instagram.