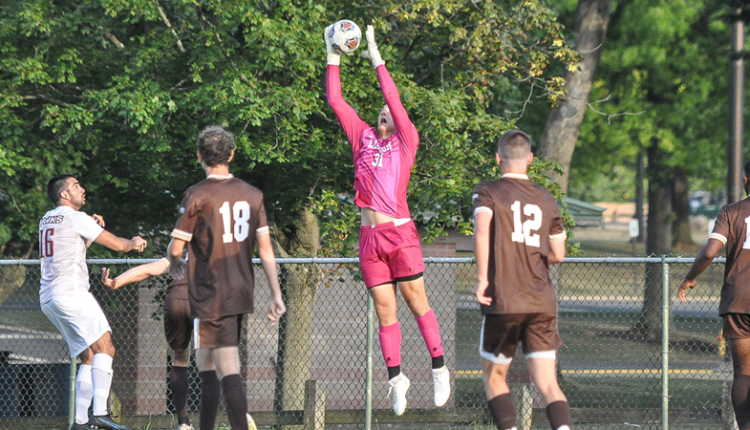 Lehigh Comes Out on Losing End of 2–0 Shutout by UMBC
next game:
at St John's
9/2/2022 | 5 p.m
Sep 02 (Fri) / 5 pm
at St John's
History
BALTIMORE – Two second half goals proved to make all the difference as UMBC shut-out the Lehigh men's soccer team, 2-0 Monday night at Retriever Soccer Park. The Mountain Hawks (0-2) played a man down for the final 24 minutes and gave up a late goal in the 88th minute that ended up being the dagger.
Lehigh was out-shot, 15-6, including 8-0 in the first half as its scoreless drought reached 180 minutes to open the season.
"I thought we played a disciplined first half that we needed to just keep the game tight," said The Ingrassia Family Men's Head Soccer Coach Dean Koski. "Even though we had more shots in the second half with more opportunities, I thought we should have scored on at least one of them.
"Some of our players lack the discipline needed and to play a man down again when your team is losing the game is really hard at this level. When one player hurts the team, it affects results. We just need to have everyone be on the same page and have more self-discipline because we've played our first two games down a man when down by a goal and that's really difficult to do. While I appreciate the effort that our team made tonight and competed for the 90 minutes even a man down, I'm disappointed we started off our season with two guys red carded."
UMBC recorded the game's first shot on goal in the 16th minute, which was quickly saved by first-year goalkeeper Tommy Chyzowych. Chyzowych also stopped two additional shots on target in the first half including a 31st minute chance from Ismailcan Usta and a 43rd minute shot from Taylor Calheira.
The retrievers got on the board quickly in the second half, just 27 seconds into the start, with an unassisted tally from Alek Wroblewski.
First-year Jarman Reilly recorded Lehigh's first shot of the contest in the 47th minute to the bottom right, saved by the UMBC keeper.
Between the 59th and 65th minutes, Lehigh put up three shots (all wide) off the feet of Perry Kingson and Jack Sarkos.
The Retrievers had three major chances with 30 minutes to go with two saves for Chyzowych, capped by a shot off the top woodwork from Wroblewski in the 70th minute.
Following Sarkos' shot missed out top, Kingson was sent off with a red card in the 77th minute.
Off an assist from Jordan Ehart, Ryan Becher put home the game winner in the 89th minute to extend the UMBC lead to 2-0, holding onto the victory.
"We're playing really solid teams right now," Koski said. "We certainly created a lot of chances against Temple, putting shots on the frame, but we're not quite there yet. But we're just two games into the season and have to be patient. We're playing a lot of young players right now who are playing Division I soccer for the first time. They're trying to figure things out and candidly, we need more on-field leadership from our upperclassmen and more communication. We're not getting enough of that right now, so I'm going to challenge our seniors to do a better job of leading on the field with their voices."
Sarkos led the Mountain Hawks with four shots, while Kingson added one and Reilly had Lehigh's only shot on goal of the game. Chyzowych made seven saves in his collegiate debut.
"I thought Tommy did a fine job tonight," said Koski. "He made the saves I thought he was capable of making and made a couple big ones. We had a big flurry of chances where our defenders and Tommy were brave and kept the ball out of the goal. He's a good goalkeeper and we wouldn' t have put him in that position if we didn't think he was capable.
"We feel very fortunate as a team to have two really good keepers in Ryan [Gross] and Tommy. We'll keep looking at both of them."
Lehigh continues the three-game road trip on Friday at St. John's, kicking off at 5 pm
Like Lehigh Men's Soccer on Facebook, follow on Twitter other Instagram for continued updates on the Mountain Hawks.