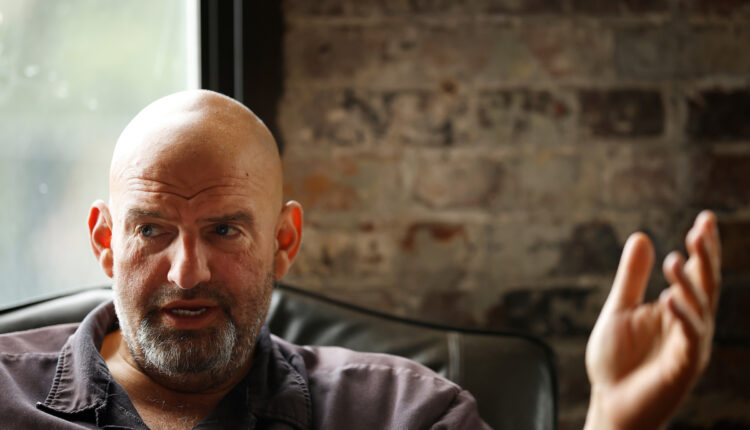 John Fetterman back in the U.S. Senate and looking ahead to 2024
BRADDOCK, Pa. — By now, most people are aware that U.S. Sen. John Fetterman has been through a difficult time over the past year, to put it mildly.
Pennsylvania's freshman senator has staged a remarkable comeback and has plenty of things he wants to talk about besides his health issues, but to recap: He suffered a stroke last May, but won a bruising Senate campaign in the 2022 midterm election. He spent six weeks at Walter Reed National Military Medical Center being treated for clinical depression, and has been the subject of numerous TV and magazine profiles focused on how he handled the news of his depression and hospitalization: with bravery and transparency.
With all that mostly behind him, Fetterman has been keen to get back to work in the Senate. He's been through the humbling freshman senator experience of the basement office and having the worst shift for presiding over the Senate: "Four to 6 p.m. on Thursday, which is the time everyone is leaving to go back to their district," he said with a chuckle.
And, Fetterman just marked a freshman senator milestone of sorts: On Thursday, a piece of legislation he introduced cleared the full Senate for the first time, with the passage of an amendment to the National Defense Authorization Act that prohibits the sale of crude oil from the U.S. Strategic Petroleum Reserve to adversarial nations.
The Capital-Star spoke to Fetterman at his home in Braddock, where he used a screen reader that helps him understand conversation; he has auditory processing issues related to his stroke.
He seemed at ease, in his trademark gym shorts — but no hoodie, it was a warm July day — and talked about a range of issues from his support of reproductive rights, to his bafflement at some of the antics of his fellow members of Congress, to his warm friendship with Pennsylvania's senior senator, Bob Casey, whom he said has been generous with support and getting Fetterman's D.C. team established.
U.S. John Fetterman is learning the ropes of being a freshman senator, including having the worst shift for presiding over the Senate. (Jared Wickerham/for )
"I hope this comes through in your article: I love Bob Casey," Fetterman said of his fellow Democrat. "He is an incredible mentor and he has genuinely inspired me. You know, Congress can be dysfunctional, but people like Bob Casey just get things done. He's steady Freddie and just no drama at all."
Fetterman said he plans to emulate Casey's example, because he's "astonished" by some of the Republican members of Congress whom he called "unserious" in their approach to the work at hand.
"It seems like some of the same people objecting to me wearing a hoodie or whatever seem to be A-OK with a sitting congresswoman showing a photo of someone's ding-a-ling in a committee hearing," he mused. Fetterman referred to Rep. Marjorie Taylor Greene, R-Ga., showing explicit photos of Hunter Biden during a U.S. House Oversight committee hearing.
Another piece of legislation Fetterman introduced last week continued his long standing support of reproductive rights. The Convenient Contraception Act would allow patients to pick up their full contraceptive prescription in one pharmacy visit, rather than in monthly installments, and require private health insurers to cover the full cost of covered contraceptives at the time of pickup. Casey and more than a dozen Senate Democrats joined to support Fetterman's measure.
U.S. Sen. John Fetterman had freshman success Thursday when a measure that prohibits the sale of crude oil from the U.S. Strategic Petroleum Reserve to adversarial nations cleared the full Senate. (Office of U.S. Sen. John Fetterman, D-Pa.)
"I always try to put myself in the mindset of a pro-life person, and if you're really 'pro-life' and you want to avoid abortion, you should be all about contraception," Fetterman said. "I hate to even say this but they won the abortion war, and now they just won't stop. Abortion should be between a woman and her doctor, and her god if she happens to have one, and that's it. I'm just dismayed that it's been a year after [Roe vs. Wade] ended, and now we're arguing about birth control."
Fetterman has also maintained his support of labor unions; on Wednesday he tweeted his support for the striking workers of UE Local 506 and 618, and said he's "shocked" that a strike by newsroom workers at the Pittsburgh Post-Gazette has gone on for nearly a year. He and his staff have refused to comment to its reporters and don't quote their stories in any of Fetterman's social media, he added.
"They won a Pulitzer! And [the owners] refused to give any of them a raise," he said. "I never understand why somebody who clearly obviously hates owning a paper and journalists— just sell it to somebody else who can nurture it. They had an amazing paper and they are starving it and grinding it down, and it's just going to be joyless. There's an incredible responsibility, and I don't know why the owners wouldn't understand that duty."
Sen. John Fetterman says that Pennsylvania will have a key role in the 2024 presidential election, which he expects President Joe Biden to win. (Jared Wickerham/for )
Looking ahead to 2024, Fetterman is well aware of Pennsylvania's important status in the presidential election and in reelecting Casey, so that Democrats retain control of the Senate. President Joe Biden has already visited the state numerous times this year; last week he made his  sixth visit to Philadelphia.
"You cannot become president without winning Pennsylvania and Joe Biden is going to win Pennsylvania and a second term," Fetterman said. "And I dare anyone to prove me wrong on all of that. I'm looking at this roster, this murderer's row of candidates on the Republican side and not one of those people can win Pennsylvania. And this isn't swagger or anything, but Bob Casey is an incredibly strong candidate–– Bob Casey is Pennsylvania. He's going to win, too."
Fetterman praised his newcomer congressional colleagues from Pennsylvania in the House – Rep. Summer Lee and Rep. Chris Deluzio.
"It's just been fabulous getting to know Chris, his district is so lucky to have him," Fetterman said. "And I've known Summer for years, and every now and then we'll have our differences on policy. But I'm genuinely glad to have her as my Congresswoman."
For his part, Fetterman said he just wanted to continue to try to be productive in the Senate. He added he was proud to see Braddock, a community he once served as mayor, removed from distressed status by the state after 35 years. He praised the current mayor and all the political leaders who helped make it happen.
"There's still a lot of work to go, but when I first started, I always knew that this was not a five or 10 or even 20-year process," he said. "It's about making sure that these kinds of communities get the type of investments and support they need and deserve."


Originally published at www.penncapital-star.com,by Kim Lyons